Switzerland is one of the best countries in the world to live. It has a very high standard of lifestyle. It is also very blessed with natural beauty and astonishing landscapes making it one of the best tourist spots. Every year thousands of tourists from all over the world come to this country to spend their vacations and leisure time.
If you are studying abroad in Switzerland, you are very lucky. People have to wait and spend a great deal of resources to visit and see this country for only a few days. On the other hand, you will get to live in this country. You won't only see but experience every part of this wonderland. After you are accepted by university, you have to arrange a place to live in that country.
Here See: Application Process to Study in Switzerland
International students have to arrange a place to live before they move to Switzerland. This article is created to guide you on this matter. In this article, you will be guided what and how to get a place as accommodation while you are still in your homeland.
---
What Options Do You Have?
There are more than one options you can choose for your accommodation. Unlike many other countries, Switzerland is not very populous and it is easy to find a place to live. You have the liberty to live wherever you want and whenever you want. Students have more opportunities than any common man. All student accommodations are divided in two general categories.
1. On Campus Accommodation
2. Off Campus Accommodation
On campus refers to accommodation options that are available within the university campus. This includes student halls of residence; clubs, societies and Greek houses. On the other hand, Off campus accommodation is any place to live that is outside the university premises. This can be private residence that you may select according to your own comfort. Let's get on to all the accommodation choices you have.
---
1 - Apartment/ Flat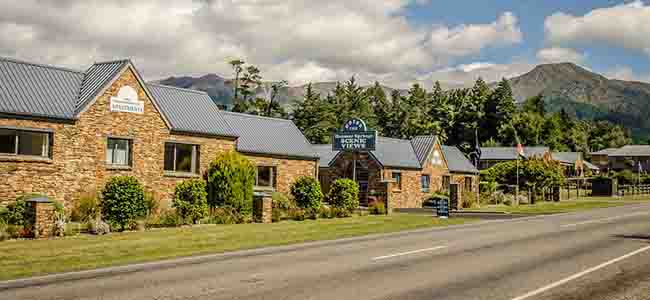 A flat or apartment is any private residence that you rent for living outside the university campus. You can find flats in residential area, some big building or in a plaza. In an apartment or flat you have the liberty of selecting it according to your own need and budget. There can be one or even more rooms in one apartment. You can either share a flat of more than one room with friends, live alone or even share a room with friends. A one-bedroom apartment costs between 80 – 100 thousand PKR per month. You will have a kitchen of your own that you don't find in hostel and you don't have to follow any rules or regulations. You will need to search and register an apartment from your homeland. You can use internet for that. However, it is recommended to have someone arrange a temporary place for you in Switzerland. You should look an apartment or flat yourself after reaching there.
SEE ALSO: How to Get Student Visa for Switzerland
---
2 - Private Hostels
You will find a number of private hostels in Switzerland for foreigner students. Private hostels can be any building that is prepared by a private individual for business purposes. Private hostels provide every facility a student can possibly need including food, internet, and cleaning. Most private hostels in Switzerland will be found near a university area. So, no matter what university you go to, you can always find a private hostel near you.
Private hostels can cost according to stars and services they provide. In a private hostel, you can get a whole room for yourself or divided with some other students. You will find both economy and business class rooms that are also charged for accordingly. These private hostels in Switzerland can cost anything between 50 – 200 thousand PKR per month. You can easily find hundreds of private hostels in Switzerland using internet. Here is a website for you find and book private hostels in Switzerland online.
---
3 - Student Halls of Residence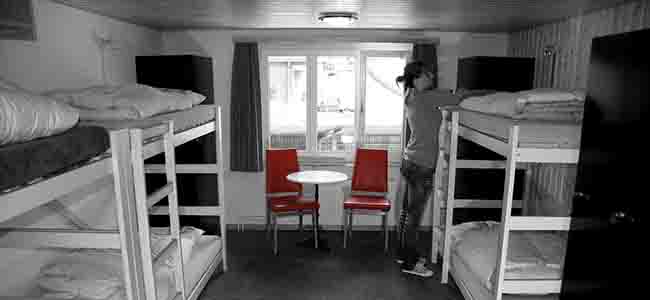 Student Halls of Residence are the most common and favorite accommodation choice among foreigner students. Every university has their own hostels whether inside or near the campus. These hostels are established based on the sole purpose to provide students and staff of university an approachable place to live.
Student halls of residence are big buildings that are designed keeping student's needs in view. This comprises many small rooms also referred to as dormitories. In one room, from two to three students live. All basic needs like closet, beds and chairs (optional) are provided by the administration. Students are generally required to pay whole years charges in advance and after that you got nothing to worry about. These halls also provide the facility of mess which is optional to avail.
Student dorms are also the cheapest way of accommodation in Switzerland. Depending on the university, student dorm cost between 45 – 99 thousand PKR per month. In addition, you have everything in your reach. It even saves you from the troubles of transportation and eating out. Even the food in university hostels or restaurants is cheaper. It costs 8 – 9 hundred PKR per meal in university dining hall while eating out may cost 15 – 28 hundred PKR per meal. Contact your university administration at the time of admission to register yourself for this accommodation.
SEE ALSO: Study and Living Cost in Switzerland
---
4 - Society or Greek Houses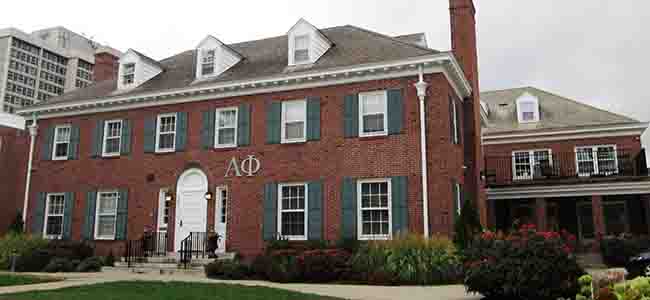 Every big university has societies, clubs and Greek houses in campus. Every Greek house has a building in campus and some societies and clubs also arrange for accommodation inside the campus. These are not university hostels but the residence arranged by the society, club or house administration.
Though it's a long shot but you can also live in one of these houses. For that, you first have to become a member. However, you don't get their member ships that easily. You first have to be regular student at campus, have similar interest as the particular group and fulfill some conditions. When you become a part of their group then you have the choice to move in with them. Still, it is not free. You have to pay them. These houses usually cost more because you even have to afford all management and activities expenses. However, life gets pretty fun and busy there.
---
4 - Paying Guest
You can also live in a house with a family. It is not very easy for an adult to get this type of accommodation however some people do prefer youngster. You find a family. They give you a room. They give you food. In return, you pay them. You are like a guest but you pay them. It is a great way to integrate with Swiss culture and people to experience true colors of the nation. Paying guest may be the most expensive but also most comfortable type of accommodation for students. The family decides how much they will charge you. There is no specific rent or cost here. You will need a good reference in Switzerland to get this type of accommodation.
SEE ALSO: Getting Jobs and Residency in Switzerland
---
What to Choose as Accommodation?
It basically depends what type of life does the student prefer. For female students, university halls of residence are best as they also provide security and still it is the cheapest. Even for boys, it is recommended most as you have everything in reach and all your class fellows live with you. It is a great help.
If you want adventure and comfort at the same time then become a paying guest. They will take care of you like a guest. Rest depends on how good you get along. But you will truly know what it is like to be a part of Swiss society.
If you want to be independent without any restrictions, select a flat or apartment. You can come and go whenever and wherever you want. You can cook for yourself. You have your privacy. However, If there are no friends, one gets bored after some time.
SEE ALSO: Benefits and Challenges of Studying in Switzerland
---
X
FREE STUDY ABROAD

Free study abroad expert advice