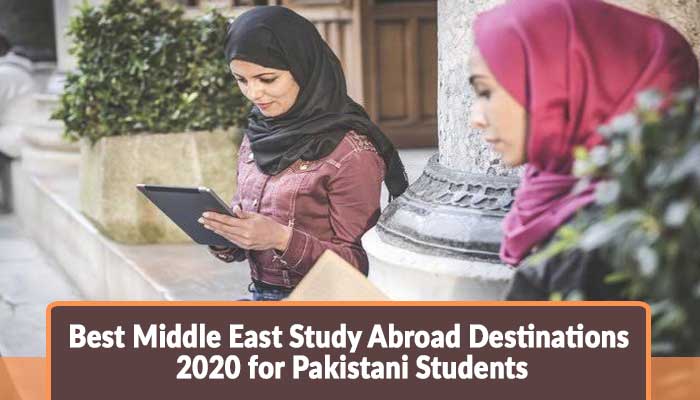 Middles east has been mysterious place, and has not yet been completely explored and known about, therefore many Pakistani students aren't aware about the study abroad option that are there. There are many options and opportunities to study abroad in Middle East for the Pakistani students.
Also check - Educational trends that have influenced the Pakistani education system in 2020
In order to identify the best places to study abroad in Middle East the basic criteria is the budget that a Pakistani students has set and the best option is definitely middle east countries because of the cost efficient education. There are many best universities in Middle East that can be very good for the higher education of international students.
The Middle East countries to study abroad are as follows –
Jordan -
Jordan is a country that has great cultural study scope, any Pakistani student who wishes to study cultural studies can opt to study abroad in Jordan. With many cost efficient universities there is much to enjoy in the aspect that the cost of living is quiet low as compared to countries as United States of America, United Kingdom etc. The best universities in Jordan for Pakistani students are –
Balqa Applied University- Ajloun College

Arab Academy for Banking and Financial Sciences

Princess Sumaya University for Technology

Philadelphia University

The World Islamic Science & Education University
Lebanon –
Even though Lebanon is a small country still there are a lot of top universities in Middle East in Lebanon. In the capital city of Lebanon, there is a university named American University of Beirut that was ranked 2 nd in Arab Universities. The country of Lebanon is very safe and the people are also friendly, thus an ideal place to study abroad in the Middle East. The best Universities to study abroad in Lebanon are as follows –
American University of Beirut

Lebanese American University

Académie Libanaise des Beaux-Arts1

Notre Dame University

American University of Science and Technology
Also check - Top 5 Most Affordable Countries to Study Abroad in 2020 for Pakistani Students
Saudi Arabia –
Many of the Pakistani citizens move to Saudi Arabia for employment, such Pakistani students who have moved to Saudi can seek higher education there. They can pursue masters in universities there. Saudi Arabia in the recent years have shown great interest in lifting their education sector, also the universities are offering great study abroad scholarships in middle east. The biggest development is that Saudi kingdom is opening foreign university campuses there. The best universities in Saudi Arabia are as follows –
Princess Nora bint Abdul Rahman University

King Saud bin Abdulaziz University for Health Sciences

Al Farabi College of Dentistry and Nursing

Jeddah College of Technology

King Abdulaziz University
Qatar –
Qatar is the most evolving and developing country amongst the gulf countries. Qatar is known to be the top country in terms of GDP, the education system in Qatar is outstanding. The universities have a global ranking of 11. The Top Qatar universities for international students are as follows –
Doha Institute for Graduate Studies

Georgetown University School of Foreign Service in Qatar

German University Qatar

Hamad bin Khalifa University

Northumbria University
Also check - Belgium Scholarship Deadline Nears for Pakistani Students: Science@Leuven Scholarships Application
X
FREE STUDY ABROAD

Free study abroad expert advice