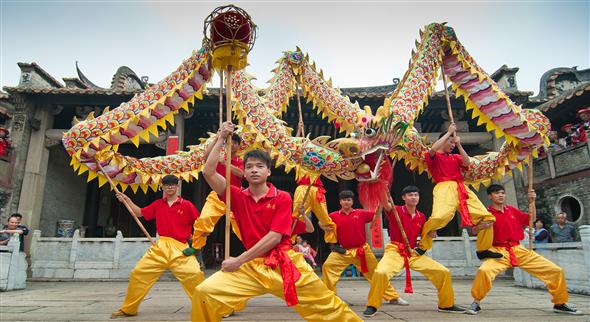 With a population of over 1.381 billion,

China

is the world's most populous country. Higher education in China is continuously growing and developing. There are over 2,000 universities and colleges, with more than six million enrollments in total. China is also a major destination for international students. China is the most popular country in Asia for international students and ranks third overall among the countries.
According to 2014 data from Ministry of Education of China, there are more than 377,054 foreign students studying in China, with an increase of 5.77% over the same period last year.
---
1 - Nearest to Pakistan
It is often a problem for students who want to study abroad but their parents are scared of sending them far away from them to a strange land. Being neighbor, China is the nearest country for a Pakistani to get Quality Higher Education. It only takes 5 to 7 hours of flight to reach Beijing, capital of China, from Pakistan. It is exactly as they say in Chinese:
---
2 - World Wide Recognized Quality Education
Chinese Education is no joke, they take even their education very seriously. How do you think they have maintained a status of one of most developed countries in the world? Chinese people are considered one of the smartest on Planet. Most Geniuses you will find are in China.
China is home to world's top ranked universities in world. China's top educational institute Peking University is ranked 29th in world. They offer a wide range of courses in all fields for all students.
Chinese currency is Yuan that is equivalent to Pakistani 15.21 rupees. When compared, US dollar is 104.78 PKR and British pound is 131.25 PKR, it is quite cheap and affordable for us. It is not just about currency but Living Expenses and Tuition Fee Cost in China is also very low.
Highest Study Cost Possible in China:
Peking University Tuition Fee

Non-degree

PKR 51,614 to PKR 559,675

Bachelor

PKR 404,200 to PKR 466,395 Per Year

Master

PKR 450,849 to PKR 1,476,920 Per Year

Doctoral

PKR 497,489 to PKR 621,861 Per Year
---
4 - Remarkable Culture
Chinese culture and people are extremely diverse and multicultural, consisting of 56 different ethnicities. Living and interacting with local Chinese and submerging yourself in Chinese society will provide you with a new way of envisioning the world.
I thought I might face some difficulties before I came here. But I feel really comfortable living in Shanghai. Shanghai is such an open and international city, and has a diversity of cultures and languages, says George, a 26-year-old American.
Chinese people no matter who and how they are, they don't throw their own culture away unlike Pakistanis. They still have Buddhist monks and temples there and not to mention the Kung Fu. If I were you, Kung Fu would be the biggest Perk for me by China. Chinese art is greatly influenced by the country's ironic spiritual and mystical history. The largest festival, called Spring Festival, marks the beginning of the Lunar New Year that is celebrated largely throughout the country.
---
5 - Employment Advantages
Chinese government allow students to work part time while they study there to satisfy their living and education expenses. If you can speak Chinese, it will greatly increase your opportunities. So if you plan to be in China for a while, it would a good idea to focus on learning Chinese at the start.
China has been the world's fastest growing country for the past 30 years. China's GDP recently surpassed Japan's to become the world's second largest economy after the United States. The world's top 500 companies all do business in China.
---
6 - Countless Scholarships Opportunities
Top priority of every student in choosing a country and university is if you can get. Before you apply for scholarship
you must be already admitted to a university and pass the Scholarship eligibility criteria. China is currently investing about $ 250 billion a year on education. They have opened many opportunities for international students to study there.
It is just as once a Chinese man said:
"Wǒ de qīzi xiàhǔ wǒ. Zhè méiyǒu rènhé yìyì." True that!
Every year there are a lot scholarships for all international students particularly for Asian and Pakistani Students. In addition, the Ministry of Education of China has set up a program that trains foreign doctorate students. China has also decided to give out 50 post-graduate scholarships a year to foreigners who have obtained at least one bachelor degree in China.
---
7 - They Love Pakistan
China and Pakistan have been friends for many decades. They have always helped each other in all chaos and adversities. They even guard each other's borders and have expressed a bond of such brotherhood that if a country attacks one it is considered an offence to both. It is easy for Pakistanis in China since all Chinese would prefer, respect and love them.
Though, there is no doubt about it but I researched about to see what do Chinese have to say in this matter and this is what I found.
---
8 - Learn Exceptional Communication Skills
The Chinese are well known for their tough negotiation skills and swift business minds. So if you study in China, you will learn how to surpass in business environments. This will give you a competitive career advantage for years to come.
That is not all since you will be living in china, even if you study English-taught course, you will eventually come to speaking Chinese fluently within a year. It will emphasize your market worth especially in China, biggest economy of the world. You will have more opportunities to outshine the world with your more creative exceptional skills that are rare to find.
Go to our
News and Events
for more Latest Informative and Interesting Articles
Want to Study Abroad? Still Confused? Here is Complete Information on every country and their
Study Abroad Guide
X
FREE STUDY ABROAD

Free study abroad expert advice