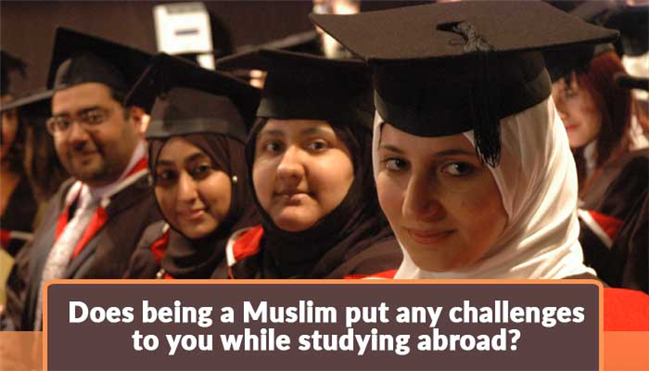 Islam phobia and racism targeting Muslims is not an unknown reality, in fact it's widespread news and deeply documented in media all across the world. Contrarily, we hear and read thousands of Muslims students including Pakistani students travel to abroad for studies purpose and have experience of their lifetimes. But the phenomena of Islam phobia cannot be subdued, it is absolutely there. Consequently, being a practicing Muslim, studying in abroad will put a series of extra challenges upon you. We have seen anti Muslim bigotry in Western Countries predominantly. Here are a few challenges that you might face additionally because of being a Muslim while studying abroad:
Justifying Your Religion:
The bigotry against Islam in Foreign Countries will always put you in questioning sessions among your fellow students. You will be constantly asked what about the values of Islam, extremism, Hijab, culture, conservativeness, prospective and your style of living as Muslim. But considering the large ratios of Muslim studying abroad, people are welcoming and warm towards Muslims as well. They want to break that dogma of Islamic phobia as much as you want. You might as well end up making friends for life.
Bullying and Subjugation:
Although, bullying is a common occurrence in educational institutes all across the world, but the incidents of bullying for Muslims studying abroad are increasing. The students belonging from other religions and cultural backgrounds subjugate academically and socially the Muslims students by isolating them.
Being a Muslim you can't just go out and eat whatever is being sold without having knowledge of it being Halal food or Haram food. Students usually have lesser time left after part time jobs and studies, so they prefer to oven ready food. The Muslims however, have to find place where Halal food is served or else find out a time from their tedious routine to cook for themselves.
You might have seen in the news about the religious restrictions being imposed on Muslim students for wearing hijab orshaking hands with a non-mehrum, learning explicit content in class rooms in presence of boys and girls both is rather difficult for Muslim students. You might feel shy to ask for a break to offer Namaz during classes as well. You have to be extra precautions while going out in Masjid to offer Namaz as many incidents of extremism against Muslims have occurred outside Masjids.
First Subject of Inquiry on Occurrence of any unfortunate Incident:
As unjust as it may sound, the Muslims are the first subject of inquiry on occurrence of any unfortunate incidents of bombing, fighting, shooting or killing. It is certainly matter of grave concern for Muslims studying abroad as they will be in state of fear every single time anything bad happens. It is rather pitiful and hapless on part of peaceful and rule abiding Muslims. They are paying undue price for a small group of extremist that have become definition of Islam in West.
X
FREE STUDY ABROAD

Free study abroad expert advice