Are you eager to apply for study abroad in 2020 and are finding a suitable match to make your dreams true? You are informed that day after day the phenomenon of the study aboard is becoming easy and possible and studyabroad.pk is offering its best services in this regard. Students are offered the best and potential solutions by the expert consulates of studyabroad. Students who are looking for study abroad free education destinations are informed that Germany is the best name in this regard. Study in Germany can be the best option because Germany offers almost free education to international students and further reason to choose Germany as a study abroad destination are mentioned below:
1. Higher Education System in Germany
The higher education system in Germany is valuable throughout the world. Germany is ranked among the top 10 education destinations in the world in 2020.
2. Programs Availability For Higher Education in Germany
Generally, the higher education system in Germany is divided into three main genres i.e. University degree programs, university of applied sciences programs, and colleges of art, film, and music studies.
3. Cost of Higher Education In Germany For Pakistani Students
Most of the state and public sector universities in Germany are funded by the government. So, these universities do not charge from local as well as international students. So, those who are looking for free study in germany for pakistani students 2020 are informed that Germany welcomes you.
4. Admission Requirements For Higher Education in Germany
Following are the Study requirements in Germany for Pakistani:
| | | |
| --- | --- | --- |
| Bachelor Program requirements | Master program requirements | Doctoral Programs requirements |
| A higher secondary school certificate | A recognized bachelor degree in the relevant subjects | A recognized master degree in the relevant degree |
| Previous academic records and transcripts | Educational background with complete transcripts detail | Previous academic proofs |
| Language requirements (German/English) | Language requirements (German/English) | Language requirements (German/English) |
| Identity Documents i.e. ID card or passport | Passport and other identity documents | Identity documents inclosing passport |
| A motivational letter/recommendation letters | Recommendation letters and motivation letter is required | Motivation letter for the selected program and reference letter |
5. Scholarships for Higher Education In Germany
Where Germany is famous in offering free education at the same time, scholarships in germany for pakistani students are also offered that are funded by the government and some foundations including universities. DAAD scholarships for Pakistani students are the most common scholarships program. Germany is offering Bachelor and master scholarships for pakistani students in almost all the study programs.
6. List of Top-Ranked Universities In Germany
Following are the top-ranked universities in Germany:
1. Technische Universität München
2. Ludwig-Maximilians
3. Universität Heidelberg
4. Karlsruher Institut für Technologie
5. Universität zu Berlin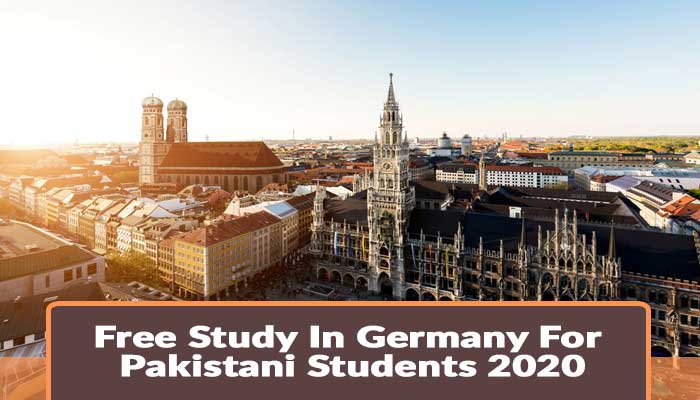 7. Cost of Living in Germany For Pakistani Students
Pakistani students are required almost 800 to 1000 EURs for per month expenditures.
8. What is the Visa Application Process For Germany
Applicants are asked to show the following documents for visa approval:
Admission letter

Health/medical certificate

Language proficiency proof.

Bank account statement
9. Points To Be Ponder
Applicants must take care of the following points:
Must ask from the university if any other or additional document is required.

Must check that your previous education is equivalent to the education standard of Germany.

Check your application multiple times before going to apply for admission and visa application to Germany.
10. Overview of Germany
Germany is one of the leading study abroad destination. Germany is a well-known name in offering quality education free of cost. Moreover, Germany also offers various scholarships programs to Pakistani students, Pakistani students can also find 04 hours per day job availability there, and the cost of living is also reasonable for Germany.
X
FREE STUDY ABROAD

Free study abroad expert advice