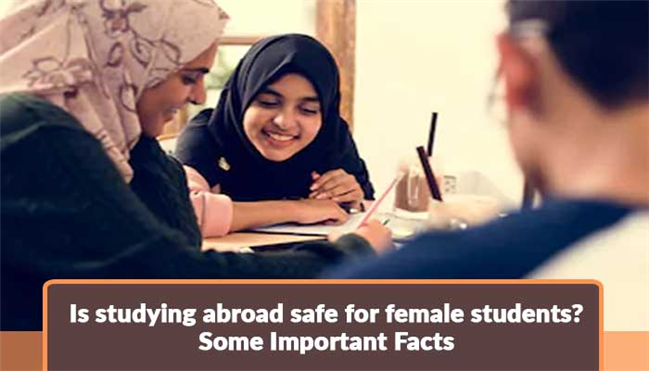 As it has been observed by the ratio of highest results and participation in extra curriculum activities, the female students of world including Pakistan are unquestionably taking over the education field. The extent of talent and dedication female students possess in general is sublime and appreciative. But regretfully, what stops them from practically utilizing their talents is their gender. Despite having financial resources and eligibility, the female students withdraw their aspirations because of security reasons. Even though, people have reached Mars, the planet earth is still unsafe for a major gender of its citizenry. The times have changed and this issue has been confronted on mainstream platforms and much practical restorative steps have been taken globally. But is it still safe for female students to travel abroad for studies unaccompanied, here are some important facts:
Research about the Premises of Area you are moving to:
Before you finally board a plane to your destination of studying abroad, it's highly recommended to entirely research about assets and liabilities of the area for better understanding of the routine you can adopt. Reside nearest to law enforcement department of the area, search for easiest means of traveling and explore the background of your surroundings.
Be Alert about Who You Befriend:
Most importantly, be completely conscious about the people you choose for accompany while studying in abroad. As the saying goes, a man is known by company he keeps, same goes with females. You might end up getting into trouble because of the people you befriended or they might drag you into indulging inappropriate activities.
Run Errands at day Time:
Don't schedule your daily chores and errands for later period of the day or for the night. Try your best to perform all your errands by the day time. Avoid going out in evening, as a saying reads, "It is better to try to keep a bad thing from happening than it is to fix the bad thing once it has happened".
Finding a Suitable Job Won't Be Easy:
Usually, part time jobs in foreign countries for students are available in bars, cafes, restaurants, stalls and factories. All these options are not appropriate choices for female students in terms of security and work structure. Therefore, finding a part time job to bear your expenses, especially if you don't have enough resources in your home country, is definitely an issue for girls.
Travelling Issues:
Moving out and about in a foreign country is not simple. If you happen to be not lucky enough to get hold of accommodation in University or College Hostel than travelling to attend your classes on time and coming back home will be a difficult daily affair.
Saving yourself from Thieves and Buglers:
In your native country, the privilege is that you know the antics of your fellow nationals. In foreign, learning their ways is a separate thing. The female students are unfortunately physically restricted and limited to protect themselves. They will have to put an extra effort in saving themselves from theft in their accommodation as well as while traveling in the city.
X
FREE STUDY ABROAD

Free study abroad expert advice