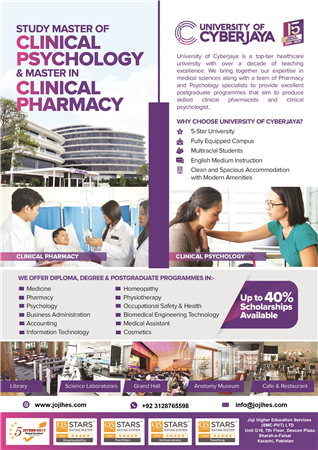 Study in Malaysia,
For Masters in Clinical Pharmacy.
Tuition Fee: 30000 RM (Approx. 11.2 Lacks PKR)
Scholarship Award: 30% =9000 RM (Approx. 3.3 lacks)
Fee after Scholarship: 21000 RM ( 7.8 lacks approx.)
Students can pay the fee in installments.
Total Duration of Master Degree: 1 years
Masters in Clinical Psychology.
Tuition Fee: 82000 RM (Approx. 30 Lacks PKR)
Scholarship Award: 45% =36900 RM (Approx. 13.5 lacks)
Fee after Scholarship: 45100 RM (16.6 lacks approx.)
Students can pay the fee in installments.
Total Duration of Master Degree: 2 years
Contact through email, whatsapp or messenger for further process regarding admission.
Email: info@jojihes.com
Whatsapp: +923128765598
Consultant Info
X
FREE STUDY ABROAD

Free study abroad expert advice