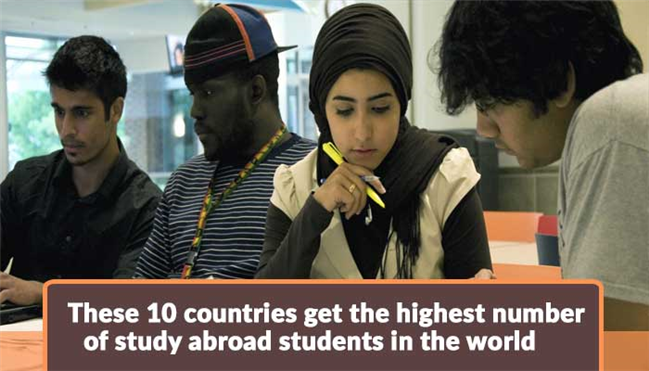 The factors of student mobility, quality of education, visa flexibility, career potential, part-time employment opportunities and affordable fee structure all compound together to make a country favorite for study abroad. In 2016, a survey calculated that almost 5.1 million students belonging from various countries were studying ion abroad. This ratio increases every year. However, the favorite study abroad destination changes every year due to ever so changing strategic and political situations. Based on latest trends and facts, here is the list of 10 favorite study abroad countries:
The number of international student's admissions is rising every year in USA and mostly in its post graduate institutions. In 2018, almost 1,043,839 foreign students were enrolled in United states Universities and Colleges. The Universities in USA have academic expertise in fields of IT, Social Sciences, Physical and Life Sciences, Humanities, Fine and Applied Arts, Health Professions, Education, and Agriculture.
China stood at number second position for having highest number of foreign student's enrollment in 2018. As per Wikipedia, 489,200 foreign students were admitted in its Universities and Colleges. The main factor for its favoritism is affordable fee structure and high quality education. Visa policy is flexible and student mobility and security of students are all given to foreign students studying anywhere in china.
United Kingdom is all time favorite study abroad destinations for international students. Now the high rise of foreign student enrollment in UK has made its government stricken its rules and merit. But still in 2018, 442,375 foreign students were calculated to be admitted in its educational institutions. The quality of education being delivered in UK is un-matched, it has world's oldest and best Universities and Colleges and above all the standard of living availed in UK makes it a favorite study abroad destination.
Free higher education availability and high part time jobs opportunities have made Germany stand at 4 th position for highest foreign student enrollment. In 2018, 374, 951 international students were enrolled in German Universities. German Government does not treat foreign students with partiality. Every eligible student is treated equally well and everyone is being given with equal opportunity of growth.
Canada is a new favorite and it has emerged as surprise for intenders of study abroad. In last decade, the visa flexibility and facilities being awarded by Canadian government to encourage foreign student's enrollment has been commendable. Several scholarships policies, fee waivers and high quality education have made it a favorite study abroad spot. In 2018, 370,975 international students were enrolled in Canadian educational institutions for various courses and programmes.
Besides having status of best tourist spot, France now stands at 6 th number for maximum international student enrollment with 309,642 in 2018. Mainly due to diverse culture, high quality education and availability of numerous short and long term academic courses and programmes, it has become favorite study abroad destination.
Australian government is quite generous when it comes to accommodate international students with scholarships. In 2018, almost 292,352 students were enrolled in Australian universities and colleges. The students get to have a bright career opportunity after completion of their degree in Australia.
There were 282,921 foreign students enrollment in Russian educational institutions for various courses and programmes, the Russian government has loosen its foreign policy and has allowed student around the globe to take admissions. Russia has one of the finest higher education systems in the world.
Japan is a developed in education, economics, IT, infrastructure and so on. In addition it is offering high quality to education to eligible students with scholarship options. Employment opportunities are highly paid and available for students on their hours of convenience. In 2018, 152,062 international students were admitted in Japanese institutions.
Spain has oldest and highly develop educational system. The fee packages are affordable and the standard of living is high, which makes it a favorite study abroad destination. In 2018, 76,057 students were enrolled in Spanish educational institutions.
X
FREE STUDY ABROAD

Free study abroad expert advice