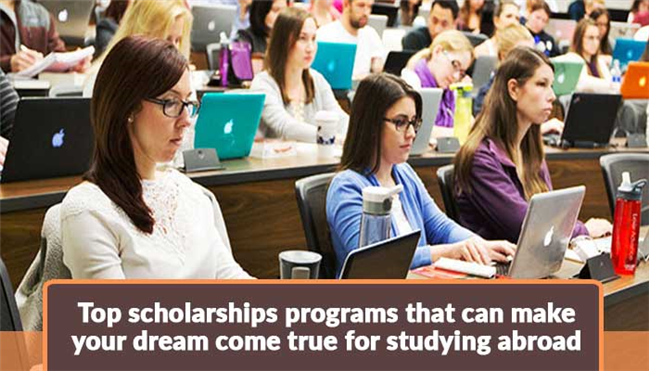 Education has an everlasting impact on a person's life. There is highly competitive and aggressive way of living after completing University. Knowledge and skills gained by education enable students to embark this high pacing world and make their mark in their professional field. Studying in foreign country is dreamt by majority of Pakistani students due to wide range of educational and general advantages it has. Besides, Pakistan is filled with sufficient talent and Pakistani students are capable to take over the world through their talents if they get to have a platform. The dilemma remains financial hurdles. Allowing study visas and offering scholarship progranmmes is part of foreign strategy and policy adopted by many foreign countries. The intending Pakistani students considering to study abroad through scholarships, the following are scholarship options that can make your dream to study abroad come true.
TUM Postdoctoral Fellowship or PhD Student Position in Germany, 2019
Academy on Human Rights and Humanitarian Law Fully Funded Essay Award in USA, 2019
Aberdeen Curtin Alliance PhD Scholarship in Australia, 2019
PhD Position-Modeling Membrane Permeability at Ghent University Belgium, 2019
UCSI University Graduate Scholarships for International and Malaysian Students, 2019
Curtin University International Scholarship in Australia, 2019
PhD Scholarships at University of Nantes in France, 2019
LCI Melbourne Scholarship in Australia, 2019
AUT Marsden PhD Scholarship – Structure and Reactivity in Nanostructured Ionic Solvents in Australia
20

University of Rome Tor Vergata

Scholarships in Italy, 2019
Scholarships for Artificial Intelligence and International Law Winter Academy in Netherlands, 2019
Fully Funded A*STAR Computing and Information Science (ACIS) Scholarship in Singapore, 2019
SISSA Mathematical Postdoctoral Fellowships in Italy, 2019
University of Newcastle Catherine and Peter Tay for Singapore Alumni Scholarship in UK, 2019
PhD Scholarship in Tumour Biology at Curtin Health Innovation Research Institute in Australia, 2019
Faculty of Science Fee Scholarships at University of Sheffield in UK, 2019
University of Adelaide College in Australia, 2019
E4D Continuing Education Scholarship for Candidates from Low-Income Countries in Switzerland, 2019
100 International Postgraduate Taught Merit Scholarships in UK, 2019
Radboud Faculty of Arts Study Funds in Netherlands, 2019
PhD Student Paid Fellowships at GCAS College Dublin in Ireland, 2019
Corsini Polo Scholarship in Association with the International Federation of Polo in UK, 2019
Swansea University Fully-Funded Scholarships for Doctoral Study in UK, 2019
The aim of scholarships programs is to provide students with fee waivers and accommodation expenses. The intending students can take assistance and guidance from study abroad consultants regarding their eligibility for scholarships and visa procedures. The above list is concise; many more countries like Sweden, Germany and Norway have free higher education system even for international students. China is home to few of world best Universities and colleges; its government has programmed many scholarships for international students as well. Students must consider every option of study abroad because education in a foreign country can transform their life into a better level.
X
FREE STUDY ABROAD

Free study abroad expert advice