11th Flavor Research Programme 2020/21
Doctoral
Art & Design,Computer Science & IT,Others
Last Date 30 Oct 2020

Switzerland
Giract is proud to announce that, following the success of its unique and innovative programme to promote flavor research amongst PhD students in Europe across various universities and institutes, 7 industry sponsors will continue to support the programme, now in its eleventh year. This consortium aims to raise awareness of the industry and career opportunities in order to increase the flavor research talent pool in Europe.
The 7 sponsoring companies are:
DSM FOOD SPECIALTIES
FIRMENICH• GIVAUDAN
KERRY• KIKKOMAN
LESAFFRE INTERNATIONAL
MCLS EUROPE
This eleventh edition is organised by Giract, in coordination with Andrea Cattaruzza, Director of AndCat Ltd and Prof. Andy Taylor of the University of Nottingham, UK.The purpose of this project is to promote innovative flavor research amongst PhD candidates across European universities and research institutes. PhD students enrolled in Universities and research institutes from 32 European countries including 27 European Union countries, UK, Switzerland, Norway, Turkey and Russia are eligible to apply in the programme. The project targets two different groups of PhD students:
Group 1: students who are about to complete their PhD and hence will soon be examining opportunities for employment
Group 2: students who are about to commence their PhD studies
This is translated into the following sub-objectives:
Publicise the attractions of flavor research so as to pull high calibre students into appropriate PhD courses and then into industry
For Group 1:
Solicit and evaluate innovative flavor research projects amongst these students
Provide the Annual Savory Flavor & Food Industry Conference, held in Geneva in the spring of each year, as a platform for the winning student to present his/her work to 'potential employers'
For Group 2:
Award bursaries to 6 selected students who are planning to commence their PhD studies in flavor science during the 2020/2021 academic year
Enable the 6 winning 1st year PhD students the opportunity of visiting the laboratory of certain sponsor companies during the second year of their PhD studies, by using a part of their winning bursary amount for their travel and stay. This will enable them to obtain a first-hand view of an industry R&D centre
Eligible Countries: International Students
Institute Name: European Universities
To be taken at (country): Switzerland
Eligible Field of Study: Scholarship is available for Pursuing PhD Degree Program.
Scholarships Deadline: 10/30/2020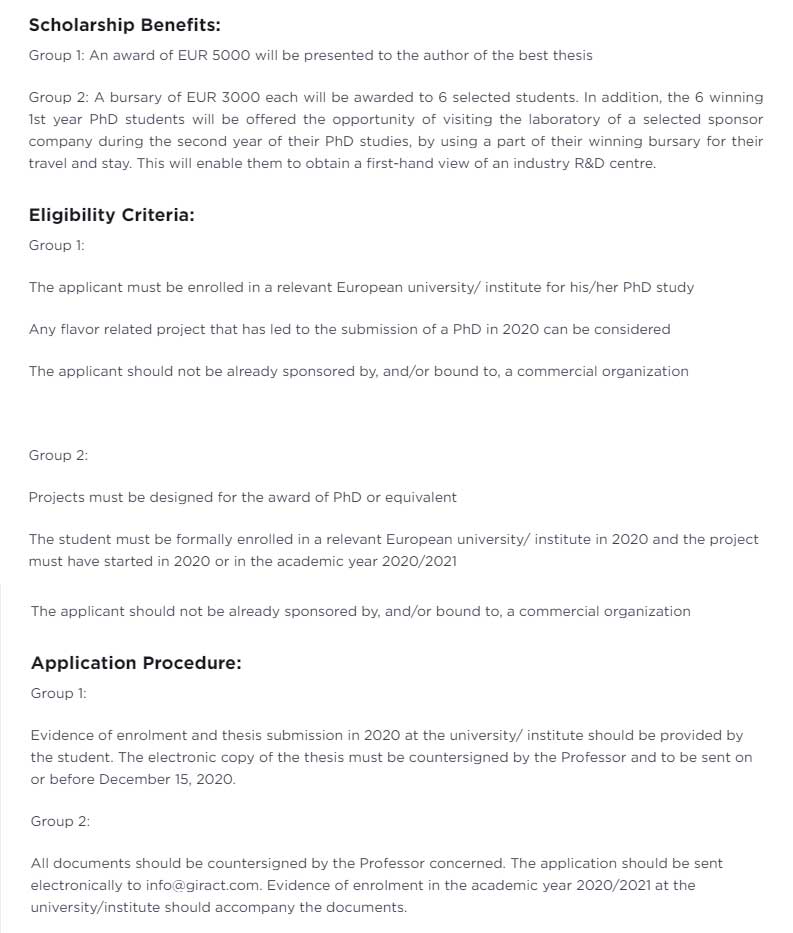 Get Latest Scholarships in Your Email
Get a regular scholarship alert. We'll deliver important and latest scholarships to your email
Sign up
for free
scholarship
alert

Apply By 31 Jan 2021

Switzerland

University of Fribourg PhD and Postdoctoral Grants in Switzerland, 2019
Doctoral, MPhil
Art & Design,Engineering&Technology,Business & Management,Computer Science & IT,Medical & Pharmacy,Social Sciences,Applied & Pure Sciences,Accounting & Finance,Humanities
Apply By 31 Jul 2019

Switzerland

Scholarships in Switzerland for differnt
Study Level


Scholarships in Switzerland for differnt
Subject / Specialist

X
FREE STUDY ABROAD

Free study abroad expert advice