Wednesday —January 27, 2021

105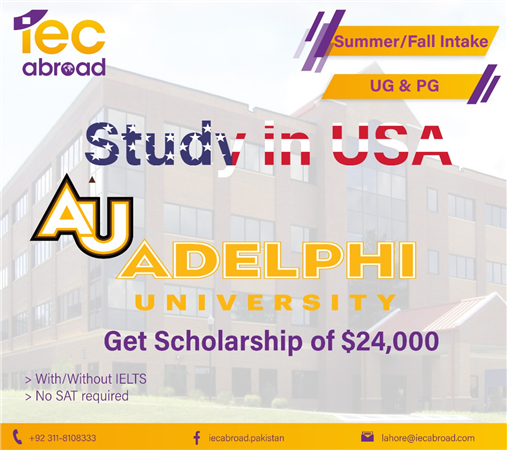 Adelphi University
Admissions are open to register yourself in desired courses for Undergraduate and Graduate Degrees.
Summer/Fall Intake
Wide Range of Courses
Without IELTS
ITEP Acceptable
I20 in 48hrs
Gap Acceptable
Academic Flexibility
Scholarships up to $24000
High Visa Ratio
Avail our services for UK , US, Australia, Canada, Sweden & Europe.
To know More About:
https://www.iecabroad.com/.../univers.../adelphi-university/
Visit our office or Call now to book your consultation.
0311-8108333
#study
#studyabroad
#iec
#iecabroad
#iecabroadpakistan
#iecabroadlahore
#uk
#usa
#australia
#canada
#europe
#sweden
#highereducation
#HigherStudies
#abroad
#goabroad
#AbroadStudy
#Bachelors
#graduate
#Undergraduate
#postgraduate
#bachelorsdegree
#postgraduatedegree
#IELTS
#Bachelorsprogram
#newyork
#university
#AU
#Adelphiuniversity
Consultant Info
X
FREE STUDY ABROAD

Free study abroad expert advice