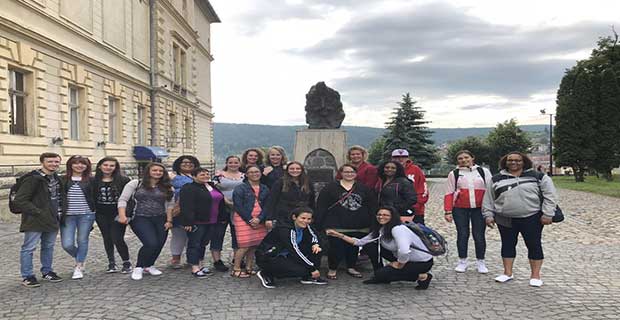 According to 2018 estimation, over 27 thousand international students are currently studying in Romania. Such a drastic shift takes place because of the world-class quality of education rendered at the higher education institutes of Romania plus the European atmosphere and lifestyle. Provision of basic facilities in affordable living cost is another major reason to choose Romania as a Study abroad destination.
Here are the Reasons to Choose Romania as a Study Abroad Destination
Internationally Recognized Degrees
International students choose Romania to study their degree programs because Romanian diplomas are recognized all over Europe. In addition, these graduation diplomas also provide a bilingual supplement to enhance the chances of employability all around the globe. Romania has a well-established higher education system. It, in fact, follows the Bologna system which is authenticated all across Europe.
High-Ranked International Universities 2020 of Romania
Romania resides reputed highly-ranked universities in its towns. The first Romanian universities,[( the University of Iasi (1860) and the University of Bucharest (1864)] were established by Prince Alexandru Ioan Cuza.These universities Offer state-of-the-art facilities, exclusive student life and up-to-date research opportunities.. Both public and private higher education institutions cater to academic and vocational education hence; prepare the students for the job market. Romania university courses offered in the fields of engineering, medicine and science are parallel with those taught at renowned western universities. Moreover, QS Top Universities in the World listed four Romanian universities in its list. These universities, in fact, lie in the 800-1000 group.
Comprehensive Study Courses
Romania offers a wide choice of study courses. The country resides more than 100 public and private accredited Higher Education Institutions. These institutes conduct courses at all degree levels like Bachelor, Master, PhD /Doctorate level, leading to an EU recognized diploma. The fields of study are multiple. You can study Arts, Science, medicine, engineering, business or whatever you want
Multiple Languages as Medium of Instruction
Romanian universities generally offer courses in more than one language. The study languages taught at higher education institutes are Romanian, English, German, French and Hungarian. However, students have to provide evidence of specific language proficiency. Students who are fluent in Romanian enjoy a wider range of opportunities while living in Romania.
The Work While Study Facility
Romanian education system allows international students to work while study.-Students can, in fact, apply directly to vacancies via the internet or through recruitment companies and students NGOs. These working hours are very flexible and allow the student to concentrate on his/her study course. These students are generally hired at call centres, IT departments, restaurants or in -campus settings
Safe and Clean Environment
Romania has a temperate-continental atmosphere with moderate climatic conditions. Romania enjoys hot summers and cold winter. This weather provides a fresh and clean atmosphere in the country. WHO ranked Romania number 48 in the world in air quality. Moreover, students are quite safe in this European destination as the crime rate in Romania is very low.
Facilitated Students' living
International students can avail many discounted opportunities while living in Romania. These include Students enjoy discounts on accommodations, cultural events, museum entry, tickets to view historical sites, public transport, etc. Moreover, the students are introduced to a vibrant lifestyle in the country. Within the campus, they can meet people from diverse nationality and can take part in exotic and extracurricular activities. There are many outdoor activities for students in Romania. In addition, students can enjoy the luminous nightlife of the country. The musical festivals held at Romania are renowned around the world.
Tourist Destination
Romania, in fact, is a tourist destination. It homes seven UNESCO world heritage sites, Romania is a land where Dracula was born. More places to visit include Bran Castle, the fortified city of Sighisoara, the seaside with sandy beaches, night clubs the Danube Delta, the Carpathian mountains and Moldova County. Don't miss to see the iconic monumental sculptures that survived the fall of Rome, lies in Romania. This sculpture is completed in 113, the column was 1,900 years old.
X
FREE STUDY ABROAD

Free study abroad expert advice