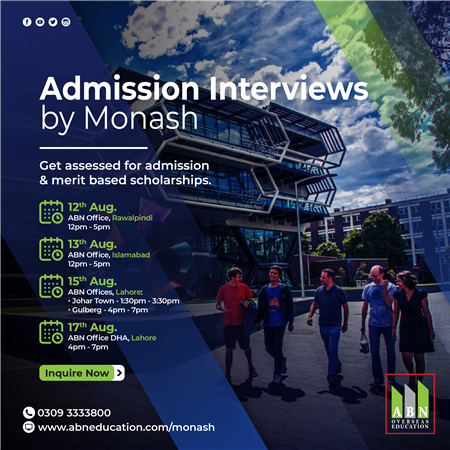 📌 Admission Interviews By Monash Australia 🇦🇺
ℹ️ Monash is a part of "The Group of Eight" (Go8) which is a coalition of the top eight research-intensive Australian universities.
🤝 Join us & get admission in Australia top universities, Our expert counselors will provide you all services mentioned below;
✅ Course selection.
✅ Documents submission.
✅ University admission.
✅ VISA guidance & much more.
🌐 Visit our website & book an appointment online: https://abneducation.com/monash
🎓 Scholarships available for international students traveling from Pakistan. 🇵🇰
🔗 A network of branches across the country (Lahore, Islamabad, Karachi, Faisalabad, Rawalpindi, Gujranwala & Peshawar)
👉 For more information please contact our student support team at☎️ 03093333800.
#monash #australia #canada #malaysia #studyabroad #counselling #counsultant #education #educationalconsutants #mba #managment #business #economics #covid_19 #covid #covid19 #coronavirus #VISA #uk #usa #canada #australia #TOEFL #GRE #GMAT #SAT #IELTS
Consultant Info
X
FREE STUDY ABROAD

Free study abroad expert advice