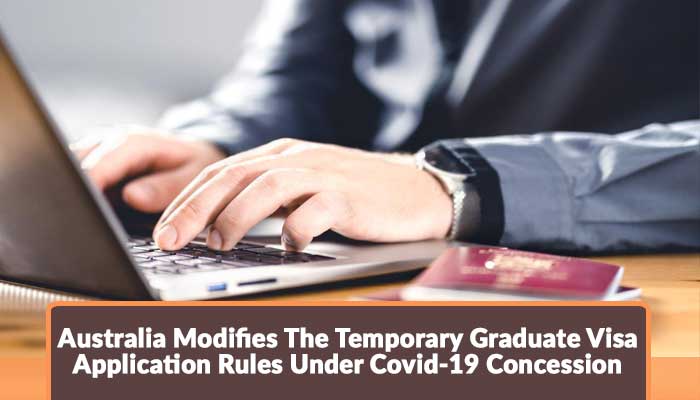 Alan Tudge, the acting immigration minister of Australia comes with the Covid-19 concession to Migration Regulations 1994. He says that this is the concession for the visa holders who are stranded outside Australia. The concession will also be valid for the applicants who are going to apply for Subclass 485 visas and Subclass 887 visas, the international graduate visas for Australia, and skilled worker visas for Australia respectively. However, the concession will also be valid for those who are on the way to get the permanent residency of Australia.
Australia started granting visas to international students again in July. Students who are studying remotely are still allowed to apply for the temporary graduate visas from outside of Australia. It's been declared that for international students to pursue higher education in Australia this Australian post-study visa is the major pull.
Students Are Receiving Visas From Their Homes
According to the updated rules or policy, international students can receive visas from their homes. However, once after receiving the visas students would grant entrance permission to Australia as soon as the borders will be open. Moreover, the immigration has also declared that the visa duration will be started from the date when the students would get entered into Australia and not from the visa issuance date.
Students Can Apply Even After Their Visas Get Expired
This is another relaxation offered to the international students by the Australian immigration department that those students whose visas are expired they can still apply for their visas. According to the statement, students will be allowed to apply for Australian 485 visas later than six months of their visa expiration. Moreover, students will have 12 months to meet the Australian Study Requirement to be eligible for this visa type. It means that students will be allowed to apply for this visa type within 12 months after completing their courses.
Who Will Be Eligible For This Updated Policy
Australian immigration has also revealed that this special policy and updates are not valid for all types of students. Only offshore students for almost all parts or study sessions from February 1st, 2020 to September 19th, 2020 are eligible for this policy. Moreover, according to the latest updates, the pilot program has received a verbal pre-Christmas deadline. This pilot program has been designed to bring 300 international students back to Australia.
Apply For Study In Australia
As the situation of Covid-19 is getting normal the lively activities are also getting standardize throughout the world. It has seen that almost all types of industries are working back throughout the world and educational activities are also again in motion. Almost all international higher education destinations are receiving admission applications from across the world. Students who are interested to apply for study in Australia, they can find the complete consultancy through the expert Australian immigration advisors that, whether Australia is still a good option for them or not.
X
FREE STUDY ABROAD

Free study abroad expert advice