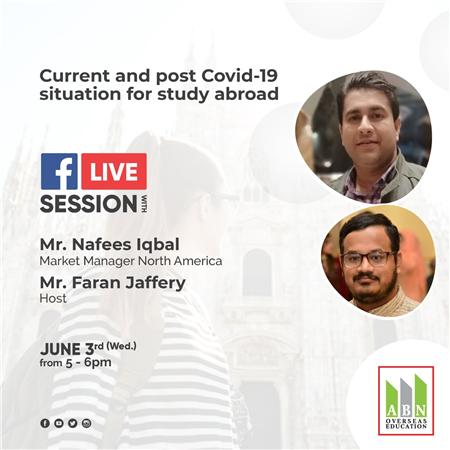 📌Covid-19 Impacts on Studying Abroad.
🕑 05.00 p.m - 06.00 p.m.
🗓️ June 3rd, 2020. (Wednesday).
🎥 Live stream will be available at our Facebook page, You can also drop your questions in the comment section and our experts will get back to you during the live session.
🎓 Scholarships Available.
✅ Course selection.
✅ Documents submission.
✅ University admission.
✅ Statement of purpose.
🔖 Now offering a 50% discount on registrations for students enrolling before June 30th, 2020.
👉 For more information please visit our website 🌐 www.abneducation.com or call us at ☎️ 03093333800
#USA #University #studyabroad #counselling #counsultant #education #educationalconsutants #mba #business #economics #covid_19 #covid #covid19 #coronavirus #TOEFL #GRE #GMAT #SAT #IELTS #VISA #uk #usa #canada #australia #france #sweden #asia #europe
Consultant Info
X
FREE STUDY ABROAD

Free study abroad expert advice