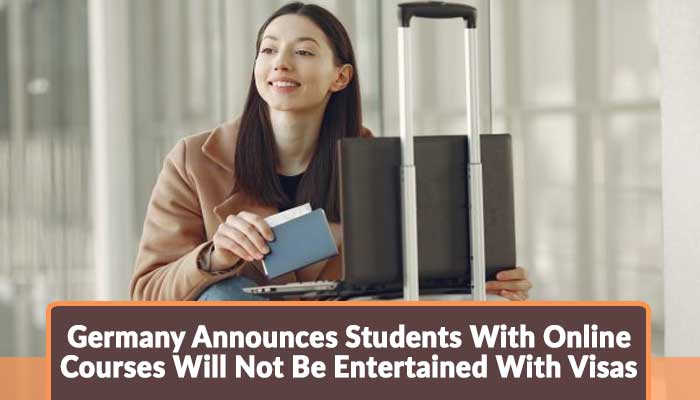 Under the current situation of the Covid-19 pandemic, the German government has declared that the international students who are going to start their semester with online courses from Germany will not be provided with the German student visa in 2020.
Moreover, international students who come under the status of non-European union students are acquired to show a certificate of presence to apply for a German student visa. The government has announced the decision before two months of starting the winter semester from almost all the German universities.
Covid-19 Impacts On International Students
Under the wave of this pandemic, the international students are affected very badly. This is not about a particular country or destination. The international students are getting disrupted throughout the world. In April, when the pandemic was on its peak, almost 80,000 students intended to leave Germany because there are a number of restrictions were imposed on them. A similar case had also been seen when Donald Trump, the president of the UAS had imposed several restrictions on international students. It was declared by the Trumps' administration that students who are intending to get online classes from US universities are not allowed to stay in the USA.
Germany's Education Minister Remarks
The education minister of Germany, Karliczek welcomed the decision of Donald Trump to drop its plan. The minister has revealed that they are going to offer a mix of online and physical classes for the winter semester. For this mix of classes, Germany is still welcoming international students from across the world. However, students who are going to commence face-to-face or in-person classes are allowed to come to Germany. But, on the other hand, students who are intending to start online studies in German universities and colleges, will not be entertained with student visas. They can complete online education from their homeland.
International Students Remarks On Study In Europe
A recent survey has taken from the international students, who are desirous to start studies in Europe, is reported by SchengenVisainfo. They said that they have approached 2176 students who are planning to start their higher education from European universities. The report declares that 30% of students are going to cancel their study abroad plans if they will be imposed to study online. 22.3% of students are saying they would probably cancel their plans of study abroad under the same condition, online classes. However, 17.3% of students said they do not have any issues with online classes and they still are planning to apply for study in Europe.
Get All Other Study In Germany Updates
Studyabroad.pk aims to facilitate the Pakistani students with all the latest updates regarding Study in Germany or anywhere in the world. Pakistan's best study abroad consultants are linked here. All consultants have a direct approach to international destinations or international universities. Under this situation, they can guide the students accurately that, how they can apply for study in Germany or other European destinations. Send us your query and you will be directed to the right consultants. Otherwise, keep visiting us for all other updates.
X
FREE STUDY ABROAD

Free study abroad expert advice