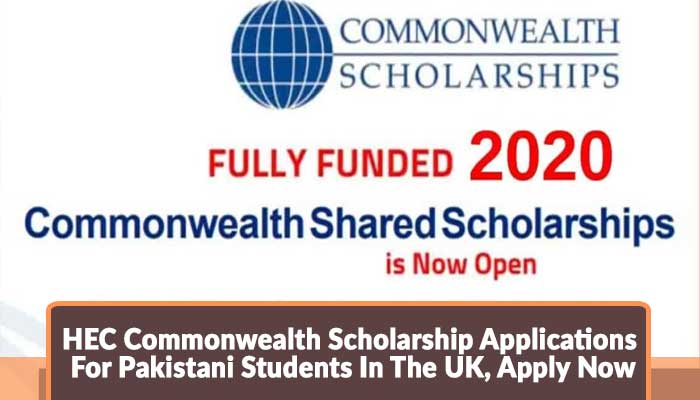 HEC is inviting applications for Commonwealth Scholarships to pursue Ph.D. degrees in the United Kingdom. This Ph.D. Scholarships program allows talented and motivated international students to enhance their higher education area. The program especially aims to facilitate the candidates who cannot afford the higher education tuition fees in the UK. Students who are admirer to pursue their higher education or study in the UK, this is the best option for them to start the journey towards the destinations of their dreams.
Eligible Programs For This Scholarships Program
Students who belong to the low and middle-income Commonwealth countries and are going to apply for any of the following study programs are eligible for this scholarships program:
Science and technology for development

Strengthening health systems and capacity

Promoting global prosperity

Strengthening global peace, security, and governance

Strengthening resilience and response to crises

Access, inclusion, and opportunity
Eligibility Criteria
Applicants with the following eligibility criteria will be considered for this UK Scholarships Program:
Pakistani nationals, AJ&K nationals, and permanent residents of Pakistan and AJ&K are eligible.

Applicants having dual citizenship are not eligible.

Applicants who are ready or can start their studies in the UK for the September/October 2021 academic year are eligible.

Applicants have to show a first-class degree in the relevant postgraduate program, 17/18 years Masters/MS/MPhil degree.

Applicants must not have any degree with the 3rd division throughout their academic duration. Moreover, applicants must not have 2nd division in the last degree program.

Applicants who are already registered for a Ph.D., or an MPhil leading to a Ph.D. before September/October 2021 academic year are not eligible.

Applicants must not have started or registered for any of the Ph.D., or an MPhil leading to a Ph.D. in their hometown or any other country.

Applicants must show the support of a potential supervisor from at least one university from the UK listed in the application form.

Applicants must provide all the supporting documents in the asked format.

Applicants must not be able to afford this degree program without scholarships.

Applicants are required to submit two references in their online application.
Scholarship Benefits
The nominated applicants will be provided the following benefits:
Approved airfare

Tuition fee

Program-related travel grant within the UK or overseas

Paid midterm visit

Monthly stipend £1,116 or £1,369 (for the applicants registered for the universities in London metropolitan area)

Warm clothes allowances

Family allowances
Application Procedure
The mode of application is online and applicants will have to submit the application on both of the online portals i.e. HEC online portal and Commonwealth online portal. However, in case of a missing application in any of the two portals, the applicants will not be considered at all.
Steps Involving application submission:
Step 1: Apply the application to the Commonwealth through their Electronic Application System (EAS).
Step 2: Applicants are required to register to HEC online portal. Once after completing the registration, applicants will go through "Learning Opportunities Abroad" under "Scholarship and Grant" to complete their application.
Applicants will also submit a deposit slip of paid fee Rs. 400 PKR along with their applications. Applicants are asked to submit the application fee to HEC online Account No. 17427900133401 in HBL, Shalimar Recording Company Branch, Sector H-9, Islamabad. Applicants can submit the fee from any HBL branch in Pakistan.
Applications Deadline
The application deadline is January 18th, 2021.
X
FREE STUDY ABROAD

Free study abroad expert advice