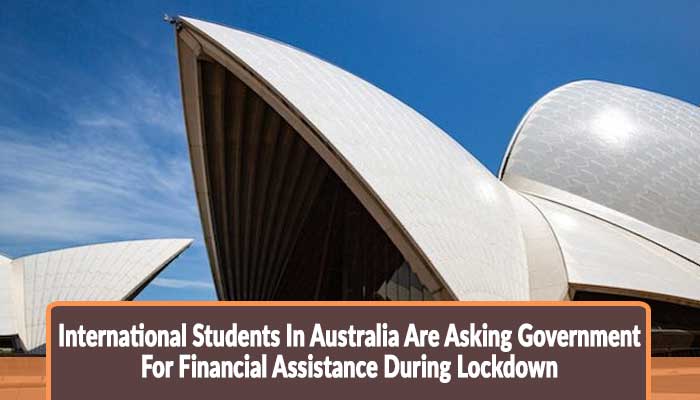 International students in Australia are suffering from bad financial conditions due to the lockdown situation in Australia. Many international students do part-time jobs during their study session in Australia to cover their living as well as study expenses. But, due to lockdown because of the Covid-19 pandemic, the students are not allowed to get involved in employment opportunities. This is the reason that they are financially weak and are looking for some possible assistance from the government's side.
Students Stories of Financial Crises
An MBA student Anneta, belong to Pakistan had shown her current situation while residing in Australia that she is used to be financially independent but due to lockdown situation, her income reduced to more than half. Aneeta holds a master's degree in communication and she revealed that while perusing her master's degree she was unable to pay a hard amount of tuition fees, AUD 14,000 per semester fee. So, under this situation, she asked her parents for her semester fees. She said that after the completion of her degree she got a full-time job which was a good option for her and she was satisfied but the current situation is not well for her and she is feeling hard to survive in Australia.
Another student Ahmed Zubair comes with his current situation that how he is suffering from the financial crisis in Australia. Ahmed is a bachelors' student in Sydney. Ahmed was working as a restaurant manager to meet his living expenses. But, due to lockdown Ahmed is restricted to continue his job and consequently, he is facing a tougher time to survive.
Similarly, there are hundreds of international students including Pakistani students are facing the same problems and during this hardest time of their lives, they are looking forward to the governments' assistance to get better survival chances there in Australia.
The Government Decision For Students
The Prime Minister of Australia, Scott Morison addressed to international students that if they are unable to cope with this situation then it is better for them to leave Australia.
He said that students must be able to support themselves financially for the first 12 months which is the basic requirement to start study in Australia. He also said that Australia would take care of its citizens and residents to provide maximum financial support to them.
Status of Study In Australia
Currently, the study status in Australia is also down. Almost all the major public sector, as well as private sector universities, are completely closed in Australia. The universities are not offered the new admission schedules yet because of the lockdown situation. However, students who are currently studying there in Australia and who are looking to apply for study in Australia for the upcoming sessions are suggested to keep in touch with us for the latest updates regarding the study schedule in Australia.
X
FREE STUDY ABROAD

Free study abroad expert advice