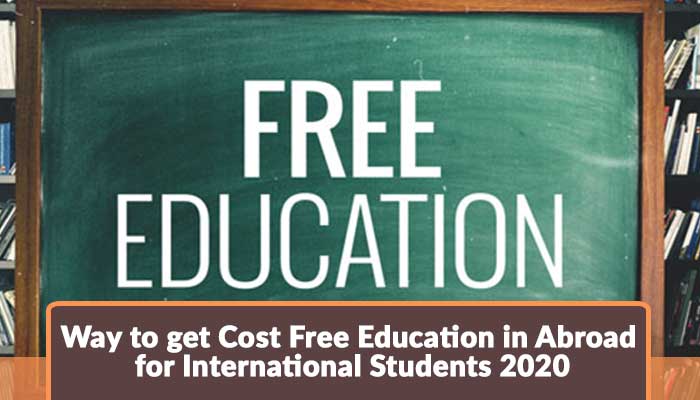 Most of the students want to study abroad for free. There are many ways by which the Pakistani student can study abroad for free without any consultation and benefit directly from applying to the tuition free universities for Pakistani students abroad and other means of free study.
There are many study abroad free options that require a little bit of extra effort. The two of the most preferred options for studying abroad are either United States of America or to study for free in Europe. Apart from these there are many options available across the globe that have ways to study abroad for free for Pakistani students.
Also check - HEC Hungary Scholarship 2020 for Pakistani Students Deadline Countdown Begins.
The countries where Pakistani student can study abroad for free or the cheapest country to study abroad are as follows –
Study in Germany for Free –
Free education in Germany for Pakistani students is known to the world. Most of the Master's degree programs are free of cost in Germany. Not all the study programs are free but they cost very less than most programs offered by universities in United Kingdom and Australia.
According to the law in Germany, the international students can work for a duration of 19 hours per week, this time duration is more than enough to gather enough money for the cost of living and additional administrative work only 25 Euro for each semester. The quality of affordable education is great.There are many free public universities in Germany.
University of Hamburg

University of Stuttgart

University of Bremen

University of Cologne

University of Mannheim
Scholarships of Germany for international students in 2020.
Konrad-Adenauer-Stiftung Scholarships

Civil Society Leadership Awards

KAAD Scholarships for Developing Countries

Heinrich Boll Scholarships

Goethe Goes Global Scholarships

ESMT Women's Academic Scholarships
Study in Iceland Free of Cost –
In the public Universities in Iceland the Pakistani student can study for free in Europe. There are courses that are being taught in Icelandic but English taught courses are also not that rare. The tuition fee free universities in Iceland are –
Bifröst University

Reykjavik University

Iceland Academy of the Arts

University of Akureyri

University of Iceland
Norway Free Education –
Some of the countries require the student to study a particular language in order to study abroad for free. For free education in Norway Pakistani student requires to know Norwegian, after that the student needs to pay only a sum of 50 $ as a registration fee.
Norway tuition free universities in Europe for international students –
Norwegian University of Science and Technology

University of Nordland

Akershus University Colloege of Applied Sciences, Norway.

Hedmark University of Applied Science

Nord-Trøndelag University College

Nesna University College

NLA University
Also check - Top 50 GMAT Accepting colleges in Germany for MBA in 2020
Czech Republic –
Czech Republic has the cheapest universities in Europe for international students. If the Pakistani students can study Czech fluently they can study free of cost in the Czech Republic. Even if the Pakistani student can't speak Czech they must pay a small amount of $ 900. The free universities in Czech Republic are as follows –
University of Hradec

Jan Evangelista Purkyne University

Czech University of Life Sciences Prague

The Technical University of Ostrava

Brno University of Technology

Silesian University in Opava
Brazil –
The way to study abroad free for international students, they require to know have fluency in Portuguese language, then they appear in the entry test with all the other Brazilian students and study abroad for free in any Brazilian universities they wish.
Together with these there are study abroad scholarships for Pakistani students that help in financial ways, especially the fully funded scholarships.
Also check – Top Fully Funded Scholarships for Pakistani Students in 2020 to Study Abroad
X
FREE STUDY ABROAD

Free study abroad expert advice