Wednesday —January 02, 2019

2035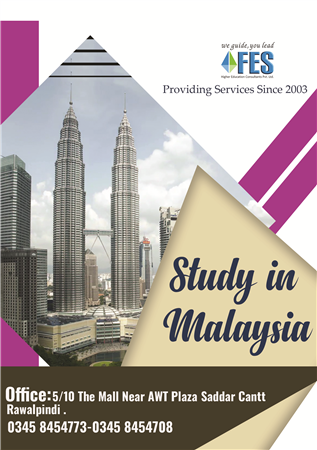 Why make Malaysia your destination of choice when studying abroad
by StudyMalaysia.com on June 9, 2017 | Why Study in Malaysia, Top Stories
1. 12th most preferred education destination in the world among international students
UNESCO (2014) statistics reveal which places around the world attract the most overseas students to their universities. Malaysia is ranked 12th.
2. Wide choice of courses and institutions for international students
Asia Pacific Institute of Information Technology – APIIT

Asia Pacific University – APU

Binary University

HELP University

Limkokwing University of Creative Technology

Lincoln University

Swinburne University of Technology Sarawak Campus

UCSI University

Westminster International College
3. Multiple pathways to other international universities
Private colleges and universities in Malaysia could be your pathway to other international universities through the American Degree Program, credit transfer programmes, and advanced standing arrangements.
4. 8 foreign university branch campuses to choose from
Students study for the same qualification but pay lower tuition fees; they also have the opportunity to spend one or more semesters at the main campus overseas.
5. Malaysia is currently home to more than 172,000 international students
According to NST, In Malaysia, as of Dec 31, 2016, there were 172,886 international students in our higher education institutions, private and international schools, and language centres. In higher education alone, there are 132,710 international students.
6. Transnational degree programmes at its best (UK, US, Australia, New Zealand)
"2+1" twinning degree programmes
"3+0" foreign bachelor's degree
7. High quality education that is assured by legislation such as the Malaysian Qualifications Agency Act 2007
These programmes can be considered for recognition by the government for the purpose of employment in the public sector. Accreditation is a status or achievement as a result of quality assessment by MQA. It is a commitment by MQA to all stakeholders in higher education i.e students, parents, employers that the programme accredited by MQA is quality-assured.
8. English as primary medium of instruction
English is used as the primary medium of instruction for all courses conducted at private higher educational institutions.
9. Average cost of Living in Malaysia is lower compared to other popular study destinations
The 2014 HSBC report also found that the average cost of living in Malaysia for international students is lower compared than other popular study destinations such as Australia, the UK and the US.
10. The Mercer 2016 Quality of Living Rankings lists Kuala Lumpur among the top 10 cities in Asia-Pacific
In the Mercer 2016 Quality of Living Rankings, which looks at factors such as safety, health, education and public services, Kuala Lumpur was listed among the top 10 cities in Asia-Pacific, 2nd in South-east Asia, and 86 overall out of 230 cities.
11. Malaysia ranked 28th in the Global Peace Index 2015
Malaysia is also a politically stable and geographically safe country that enjoys a warm and humid tropical climate throughout the year. Learn more about Malaysia rankings in Global Peace Index 2015.
12. The diversity in Malaysia makes international students exposed to different cultures and traditions
The diversity in Malaysia means that international students are exposed to multiple languages, cultures and traditions as well as a wide variety of culinary treats and places of interest to explore.
13. Malaysia is a food haven and recreation is abundant
There are just so much to choose from, from local food courts to restaurants with regional favourites. Recreation is abundant in Malaysia with shopping malls, cinemas, gymnasiums, sports complexes, and more
14. Extensive international student support services:
visa applications
institution representative meets student at airport
accommodation arrangement
social and recreational activities
15. Simple and hassle free system for international students to gain entry into Malaysia
Obtaining a visa and a student pass for full-time study in Malaysia is a quick and easy process.
16. Gateway to Southeast Asia
With the 9th best airport in the world, students will find it easy to explore the nearby ASEAN nations, such as Thailand, Singapore, Indonesia and Philippines, as well as further on, like China, Japan and Australia.
17. Affordable travel
Malaysia provides affordable travel within the region for students with low-cost airlines like AirAsia, AirAsia X, Cebu Pacific, Malindo Air, Tiger Airways, Scoot, and Jetstar Asia.
18. Work while you study
All international students with a valid student pass are allowed to work part time for a maximum of 20 hours per week during semester breaks or holidays of more than 7 days in specific sectors.
19. It's easy to get around especially in larger cities like Kuala Lumpur
Light Rapid Transit (LRT)
Mass Rapid Transit (MRT) (to be completed soon)
Taxis, Uber and GrabCar
KL Monorail
KTM Komuter
MyRapid buses
Countries

Malaysia
Education Levels
Matric
Intermediate
Bachelor's
Masters
MPhil
PhD
Diploma
Consultant Info
X
FREE STUDY ABROAD

Free study abroad expert advice