TOEFL Coaching Institutes in Pakistan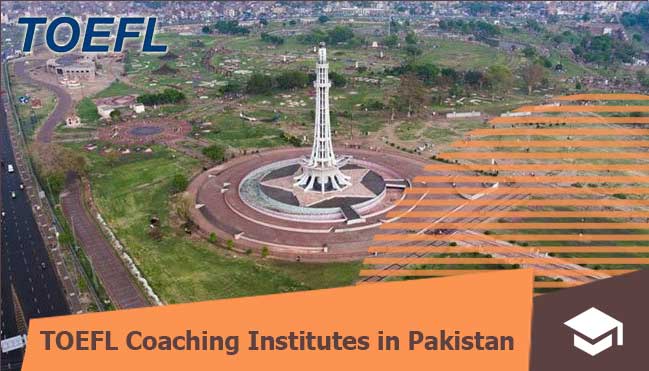 TOEFL is mandatory English language proficiency test which is widely approved for admissions in higher education institutes internationally and visas of foreign countries. Wondering from where in Pakistan you can take coaching for TOEFL preparations? We have solved this puzzle for you. The below enlisted TOEFL Coaching institutes in Pakistan are providing their experienced and professional TOEFL preparations services. The top rated and highly skilled TOEFL coaching institutes functioning in various cities of Pakistan are registered in our list below. You can acquire contact information, email, website and institute address by clicking your selected institute at your city in no time and commence your TOEFL coaching classes today. To make selecting best institute easy for you, we have provided rating bar with every institute's profile, the rating bar is based on TOEFL coaching expertise and learning experience of numerous students who have studied in this said institute.
Show More
TOEFL Coaching Centers in other Cities of Pakistan
All Cities
List of TOEFL Colleges In Pakistan

Not Sure where to get TOEFL Coaching
our team will help you find the best TOEFL coaching center throughout the pakistan click on the black button on the right, fill in your info and we will guide you.
X
FREE STUDY ABROAD

Free study abroad expert advice
Address: 2nd Floor, Ramzan Plaza, Bank Road, Sadder, Rawalpindi
Contact: 051 4302368
Email: info@abc.pk
Website: http://www.fti-acca.com/
Address: Kotwali Rd, Faisalabad 38000
Contact: (041) 9200886
Email: info@gcuf.edu.pk
Website: www.gcuf.edu.pk
Address: House No: 54, Park Facing, Warsak Road, I-9/1, Islamabad
Contact: +92 51 4102790
Email: info@iped.com
Website: www.ipedpak.com
Address: International Islamic University Sector H-10, Islamabad
Contact: +92 51 9257988
Email: admissions@iiu.edu.pk
Website: www.iiu.edu.pk
Address: Ch. Rahmat Ali Campus, Sultan Bahu Road, G -7 Markaz, Islamabad, 44000, Pakistan.
Contact: +92 51 4307164
Email: info@jfk.edu.pk
Website: http://www.jfk.edu.pk/
Address: Alamdar Road, Quetta Balochistan, Pakistan (87300)
Contact: +92 81 2820615-6, 28
Email: info@pearl.edu.pk
Website: www.pearl.edu.pk
Address: Chaklala Scheme III Rawalpindi
Contact: +92 51 5766288-9, 03
Email: info@thecampus.com.pk
Website: www.thecampus.com.pk
Address: Railway Rd, Bahawalpur, Punjab
Contact: (062) 9250235
Email: info@iub.edu.pk
Website: www.iub.edu.pk
Address: At Front Generation School, Corner of Street 13, Main Imran Khan Avenue, Chaklala Scheme III, Rawalpindi.
Contact: 0344-5091474
Email: info@zawiya.edu.pk
Website: www.zawiya.edu.pk
Address: 3rd Floor, Al-Babar Center, F-8 Markaz, Islamabad
Contact: +92 51 2854846
Email: info@zawiya.edu.pk
Website: www.zawiya.edu.pk