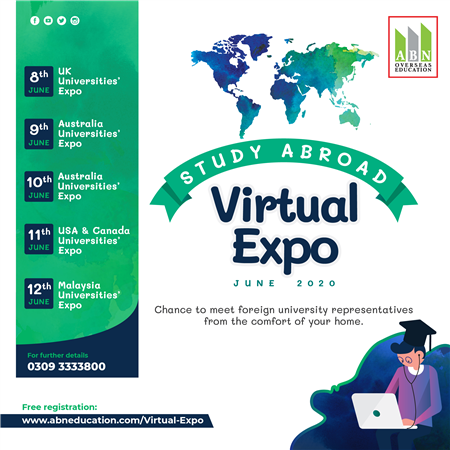 📌 "Study Abroad Virtual Expo" Coming Soon!
🌏 A chance to meet foreign university representatives from the comfort of your home & discuss your study abroad options.
✅ Course selection.
✅ Documents submission.
✅ University admission.
✅ VISA guidance & much more.
🗓 Starting From 8th June onwards.
🚨 Limited seats available.
🌏 Select the preferred destination.
🏫 Select universities as per preference.
🎓 Scholarships available for international students.
🔖 Now offering a 50% discount on registrations for students enrolling before June 30th, 2020.
🌐 Registration Link: https://abneducation.com/virtual-expo/
👉 For more information please call us at ☎️ 0309 3333800
Consultant Info
X
FREE STUDY ABROAD

Free study abroad expert advice