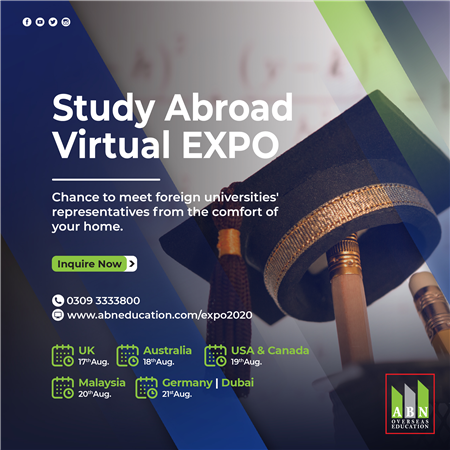 📌 𝗦𝘁𝘂𝗱𝘆 𝗔𝗯𝗿𝗼𝗮𝗱 𝗩𝗶𝗿𝘁𝘂𝗮𝗹 𝗘𝘅𝗽𝗼 𝗔𝘂𝗴𝘂𝘀𝘁 𝟮𝟬𝟮𝟬
Discover what's waiting for you by joining our Study Abroad Event from 17th August till 21st August 2020, An opportunity to meet foreign universities representatives to discuss your queries regarding admissions.
These virtual events are the perfect opportunity for you to learn more about the world-class education and find out everything you need to know about study abroad from our leading academics student counselors.
𝗔𝗕𝗡 𝗢𝘃𝗲𝗿𝘀𝗲𝗮𝘀 𝗘𝗱𝘂𝗰𝗮𝘁𝗶𝗼𝗻 𝘀𝗲𝗿𝘃𝗶𝗰𝗲𝘀 𝗶𝗻𝗰𝗹𝘂𝗱𝗲;
✅ Course selection
✅ Documents submission
✅ University admission
✅ VISA guidance
🎓 𝗠𝗲𝗿𝗶𝘁-𝗯𝗮𝘀𝗲𝗱 𝘀𝗰𝗵𝗼𝗹𝗮𝗿𝘀𝗵𝗶𝗽𝘀!
🌐 Visit the link & Get register for the event: https://abneducation.com/expo2020
🔗 A network of branches nationwide (Lahore, Islamabad, Karachi, Faisalabad, Rawalpindi, Gujranwala & Peshawar)
👉 For more information, please contact our student support team at☎️ 03093333800.
#abneducation #studyabroad #counselling #counsultant #education #Canada #UK #australia #USA #Malaysia #Germany #Dubai #University #mba #business #economics #TOEFL #GRE #GMAT #SAT #IELTS #VISA #france #sweden #asia #europe
Consultant Info
X
FREE STUDY ABROAD

Free study abroad expert advice