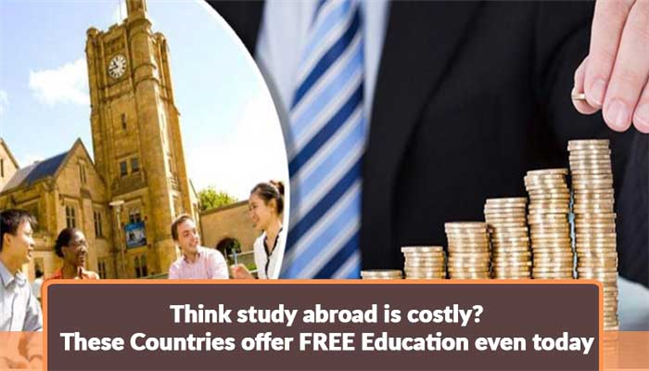 The ambition and hope of achieving something great in life, arises the desire of studying abroad in the best Universities of the world, getting a greater platform for exposure of your talents and specifically experience the life from a novel prospective. The factors ceasing the students from making most of their potential are often monetary particularly Pakistani students; although Pakistan is filled with immensely talented and promising students but problem lies in lack of financial support for them to employ their aptitudes. The gifted and proficient students who are paused from applying in foreign Universities because of financial reason, check the list below, these countries are offering free of cost or average cost education in their Universities.
The Higher Education system of Germany is quite facilitating for foreign students. DAAD, The Deutsch land stipendium and The Friedrich Ebert Stiftung scholarships are some name of the lot of scholarship programs being run by German Government for free education of foreign students. In 2016, 16 states of Germany announced totally free of cost education in their public Universities for its nationals and foreign students.
Public Universities of Norway offer education free of cost for its nationals. There are 40 Higher education institutes including Universities, Colleges and institutes which have announced free education for foreign students as well. There is no condition of having nationality of Europe or any other specific country, students from all around the world can apply.
Higher education system in Sweden is free of cost. The Swedish institutes are offering full or half scholarship programs for international students. The international students who are degree holders of any of the partner University of Swedish Universities, then getting full fee scholarship is relatively easy.
Study in Austria is not famous among Pakistani students, but for the information, it is one of those Schengen Countries where education is free. However, international students had to pay only € 379.36 per semester maximum for administration fee of institute. The cost of living and free education in Austria is making it top priority among international students.
Finland is among those Nordic countries where higher education facilities for its nationals are totally free of cost. Recently, Finland has announced free of cost higher education availability for international students as well. There are several scholarship programs being ran by Universities and Finnish Government that are supporting living cost and accommodation cost as well.
France is an international favorite holiday destination; host to several historical and visiting spots and also one of the most expensive country. Higher education institutes of France or charging a very low cost tuition fee, besides that France is offering numerous scholarships and fee waiver programs to encourage international student's enrollment in its Universities and Colleges.
A student belonging to any country of the world can apply in Universities and Colleges of Belgium. It is free but you must have a qualified degree and must fulfill their eligibility criteria. Only Medical or dentistry students may have to pay tuition fees.
X
FREE STUDY ABROAD

Free study abroad expert advice