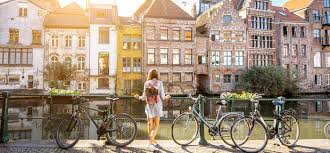 Romania is an amazing place to study abroad if the prospective student is on a budget. The picturesque atmosphere, the tolerable climate, historic heritages,European lifestyle, up to date academic programs and multilingual mediums of teaching, yet everything has made Romania a favourite destination for study abroad students to choose Romania for their degree courses. Romania resides some of the best universities in its towns where almost every field of studies are taught in multiple languages. Though locals and other European students enjoy fringe benefits while studying in Romania, the Non-EU students are also pretty satisfied with some legal restrictions and limitations.
Accommodations for International Students
Once admitted in a Romanian University, students from Non –European nations, especially from the developing countries, require a visa to enter Romania. These students also require a residence permit upon reaching Romania. The students are then accommodated in three types of housing which includes on-campus residences in a public or private student dormitory in around 60 Euros a month. This is a great option with security and affordability.
Students can also rent an apartment on sharing or as a single tenant. Estimated rent for such apartments lies between 150-300 Euros a month in a big city.

Some students prefer to live with a family as a paying guest. The rent is around 100-150 Euro per month. The cost also depends upon the provided facilities and location of the area.
Language Facility
The best thing to study abroad in Romania is that most of the higher education courses are taught in multiple languages. Therefore it is not mandatory for a student to pick Romanian taught courses. Yet Romanian is the official language of the country and if the student learns to speak this native language, he/she can enjoy many extra opportunities. There a lot of English taught programs at Romanian universities where Asian, especially from South East countries like Pakistan, can complete their degree without any language barrier.
On-Campus Students' Activities
The students enrolled at a Romanian university enjoy every facet of the on-campus life as of the local students. They can have exotic meals at cafeterias. Most universities offer on-campus free medical facilities. Every university resides in grand libraries with complete study resources. The sports activities are countless. Students can practice their choice of sports and eligible candidate can join the university team. Gyms are present within the campus to keep you fit and steady. The best parts are the Student Non-Governmental Organizations. These are basically institutions and social structures made of students with the same set of interests and motivations. Joining such an organization will gain experience and contacts for newcomers and in future, they are able to join the real organizations.
Travelling Facilities
Romania public transport mainly includes buses, trolleys and trams. Maxi-Taxi and regular taxi are slightly expensive options. These ground transport can take you everywhere in the city. Students can buy tickets for a day or for a month at affordable prices to travel on buses and trams. There is also an underground metro service available in the city. Thus, travelling in Romania is quite easy and pleasurable. Railway networks and airports are also built in Romania for intercity or overseas travelling. According to recent news released by the Bucharest General Council, Bucharest students will be able to use free over-ground public transport service. However, this facility will be primarily applied to students under the age of 18 who attend classes in the authorized pre-university system.
Exotic Romanian Cuisine
Non-Muslims can take advantage of Romania's wine production as this country is the ninth largest wine producer in the world. Romanian cuisine is extra rich with meaty flavor's, supplemented by vegetable side dishes. Some traditional dishes are "Borsch" and "Papanasi," With the current mobility of Muslim expats in Romania, the demand for Halal food increases. There are good halal restaurants in Romania especially in Bucharest where Turkish, Lebanese and Pakistani foods are prepared and served.
Out-Door Activities
The country offers a wide range of activities for tourist. This could be exploring the ancient caves to mountain hiking. There is a lot to enjoy in Romania like visiting Bolboci Lake, Lespezi Peak, Peles and Bran Castles and the traditional countryside villages. Moreover, there are many night clubs for students. Romania is specifically popular for its matchless music shows. The music concerts are held at different places and visitors around the world visit Romania to watch these annual music events.
Work While Study Option
Students are allowed to do part-time jobs in limited hours. This limitation is however not applied to EU students. These part-time jobs are an effective option for students to improve their employability skills in connection with their academic fields. Over the last few years, Romania has become a popular destination for international companies to set up their businesses. This creates part-time job opportunities for students and graduates, especially in marketing and HR. Other good opportunities are available in the information technology sector and language teaching. However, to continue the job in Romania Non-EU citizens require a legal work permit.
Settlement in Romania
Romania also offers ways to set up a career in the country after studies. For eligible candidates there are functional options to extend the residence as well as work permit and acquire Romanian Permanent residency and citizenship.
Hence, living in Romania for an international student or graduate would be an amazing and career seeking experience provided the resident manages to spend in a budget.
X
FREE STUDY ABROAD

Free study abroad expert advice