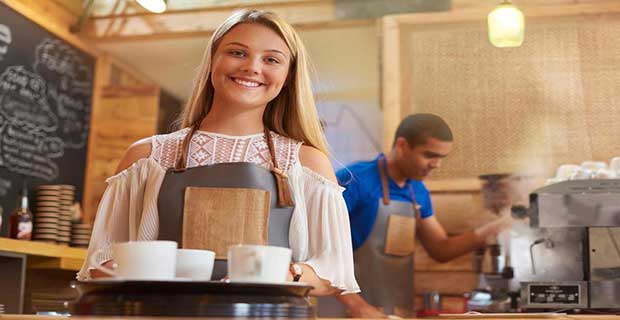 EU, EEA and Swiss students do not require any work permit while they are studying at higher institutes of Romania. In addition, these students are not restricted to any number of working hours while they are enrolled in their study program. On the other hand, International student belonging to non-European nations in Romania, also do not require a working permit while studying. However, these students can work during their studies for 4 hours per day only. These students in fact also need a residence permit for a valid stay in Romania. Moreover, if a student likes to work more than the assigned hours then he/she has to apply for a formal work permit. The General Inspectorate for Immigration (http://igi.mai.gov.ro/en/content/access-labor-market) can assist the students in this regards.
Work While Study Option in Romania
In Romania, students are easily hired on part-time jobs. They just have to create and submit their CV and a functional cover letter to apply for part-time vacancies. Students can search for jobs on various web portals or they can look for vacancies by taking help of their university information centre.
Part-time Jobs in Romania for International Students 2020
There are a number of part-time opportunities for University students in Romania. The best option is call centres, especially for those students who are fluent in any foreign language. Students also work at gas stations, malls, IT offices, restaurants and as an English tutor. The chances of getting well-paid jobs are high for those who fluently speak Romanian.
The Employer's Role
The student should build good terms with his employer to deal with taxation and insurance issue. He/she should learn in detail about the number of holidays allotted and other terms of the working contract. This healthy relationship will become pretty helpful when the student completes his study course and is ready to hunt a full-time job in Romania.
Internships in Romania 2020
Romanian companies and other organizations also offer effective internships to eligible students. These Internships will gain you the work experience, and means of acquiring contacts in the country. Some of these internships are paid while most of them are training-based unpaid internships. These internships are generally supported by a" Law on internships", initiated by student unions. Moreover - universities and student societies are the best sources to find a good internship program.
Volunteering
Many international students also prefer to work voluntarily in their free time. Romania NGOs are set up in every field of life including education, environment, health and disabilities etc. Students can gain hands-on work experience as well as community interaction through this voluntary work.
Job Opportunities for International Graduates/pass-outs in Romania 2020
Work Permit
Once the international student completes his/her degree course from Romanian university, he/she can still hunt for a career-oriented job provided he/she possesses a valid work permit. To obtain a work permit first, you have to hunt a job. If the employer is satisfied with your qualification and working skills and if no other EU or local employee fits that job then the employer can recommend you for the job. Moreover, it is not easy to switch the job if anybody wants to do so; he/she has to apply for another work permit.
Job Opportunities for Expats in Romania
Romania offers job opportunities in multiple sectors. Most of the landscape is rural therefore agriculture and related industries flourish here. Another horizon expands in the tourism industry needs both development and investment. International graduates also get jobs in the resource and energy areas, the industrial sector and the manufacturing fields. The country also hires qualified personnel in business, finance, HR and retail. Moreover many HR agencies in Romania prefer to hire international graduates at executive positions in their larger companies and multinational chains. Moreover, international
Most high level jobs are available in big cities like the capital Bucharest. Other destinations that offer good jobs are Cluj, Lasi and Timisoara especially for graduates who fluently speak multiple languages.
Business and Investment
Romania is, however, open for international investors or business persons. Getting a job or business opportunity is comparably easier in Romania than other European countries as Romania has a set quota system for expats. Still, to get a job in Romania the graduate or university pass-out needs a company to sponsor the work visa.
X
FREE STUDY ABROAD

Free study abroad expert advice