5 Best Reasons to Study in Australia and Fun Facts about it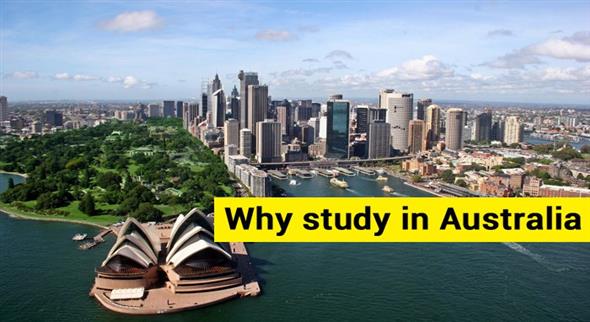 Top Quality Education and Less Expensive:
Australia has some of world's class universities ranking in one of the best in the world. Their research programs and technologies are one of the best in the world. Australian Qualifications are widely known and accepted. 8 out of 100 top Educational Institutes are in Australia. It is 9th in world University Ranking System. There are more than 1100 well known institutes in Australia that offers more 22000 courses.
· Read about Australia's Top Universities and Colleges
· Read about All and Accredited Australian Universities
Cost of living is lower than other Western countries. Their tuition fess is also a lot less than America and UK. Average tuition fee in US for international student is $30,000 per year and it is $36,070 to $51,850 per year in UK for undergraduate students. Whereas in Australia it is:
· Bachelor's degree – AU$15,000 (US$11,750) to AU$33,000 (US$25,800)
· Master's degree – AU$20,000 (US$15,650) to $37,000 (US$28,900)
· Doctoral degree – AU$14,000 (US$10,950) to $37,000 (US$28,900)
· Read more about Study Cost in Australia
| | | |
| --- | --- | --- |
| Australia Rank | World Rank | University |
| 1 | =33 | |
| 2 | 47 | |
| 3 | =60 | |
| 4 | =60 | |
| 5 | 74 | |
Work and Competition:
Australia has a very less rate of unemployment. Jobs there are not very hard to find. They have a lot more opportunities to work than USA and UK. The minimum wage in Australia is $16.88, highest in the world. Whereas,
in America, minimum wage ranges by state from $5.15 to $9.19. However, Australia have straight rules that unless you don't have a PR or Citizenship 90% of companies don't hire you at all.
Competition here is also not very tough compared to other countries. The kind of countries USA and UK are, a very big number of people from foreign countries have made their living there. So, it can get a little too fierce to acquire job there. But that is not the case with Australia. International students can work up to 40 hours per fortnight in Australia.
Culturally Diverse:
1 out every 4 in Australia is born overseas. Most of the Australia consist of multicultural population. So, you will never feel as foreigner there. People are very friendly and funny. Laws there are very strict, unless you are evil, you will safer there.
All you need is just good English, obviously you don't expect them to learn Urdu for you. If you can speak and understand English, you are good to go and won't have any problem.
Immigration and Economy:
Australian economy at present far better than USA. Australia has a rapidly increasing economy ratio. You get paid more and easily compared to other countries.
Australia is very big in size and has lot less population compared to it.
· Read about How to get Australian Visa
· Get to know Australian Student Visa Questions
Once you are there studying, it increases you chances of getting Permanent Residency. They have a proper ranking system of your performance that includes from your grades to behavior. The points you get in it, decides your chances for PR. There are also opportunities such as the Professional Year Program (PYP), which allows graduates to gain experience in an Australian workplace. Completing a PYP can help you to get permanent residency.
Beautiful Place:
Australia is also one the best tourist attraction. It has a lot of beautiful places that just leave you speechless and make you don't want to come back ever again. There are many, clean white and beaches and lakes. Many lakes there are literally pink. You can find from deep green forests to huge dry deserts there.
Following are some interesting fun facts about Australia:
1. Their coffee is the best in world, even star-bucks can't compete with their level of taste.
2. They have the best coast to meditate.
3. Almost everyone in Australia is a Swimmer.
4. There are more Kangaroos than humans in Australia.
5. Many Lakes there are pink.
6. It is totally normal in Australia to take one year gap from life to relax.
7. Australian Population density per square km is 2.5.
8. Everybody in Australia has accents.
FREE STUDY ABROAD

Free study abroad expert advice