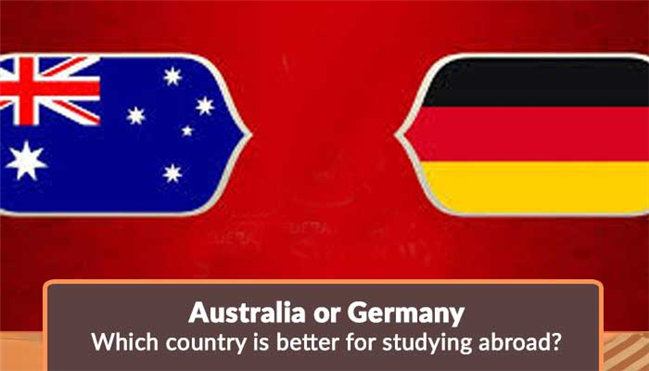 Confused about which country to choose to for study? Well, for now, if you have been thinking which country in Germany or Australia is more suitable for your education, Following is a solution for that.
Germany and Australia both are ranked one of the best for education in world. Each country has their own specialty in certain fields. Both countries are unique in their own way and have been esteemed worldwide for many decades for their services in the field of higher education.
---
Higher Education System
Australian Higher Education System:
After USA and United Kingdom, Australia ranked Fourth by means of providing the best higher education in the world. Australia is home to many of world's top universities and their education and degrees are recognized worldwide. It is not just about the degree but they provide students with best facilities available where they not only learn but groom their entire personalities and perspectives. There are more than 1100 well known institutes in Australia that offer more than 22000 courses.
German Higher Education System:
In the latest ranking of QS for higher education systems of each country around the world, Germany was ranked the Third best higher education system in the whole globe. Today German degree is respectfully recognized all around the world and even preferred over others. Germany is home to many to of the world's top ranked universities that are developing and grooming further as time is passing. Germany became best place for higher education among Non-English countries. Germany is currently the fifth most popular study abroad destination with the fifth biggest population of international students.
---
Education Cost
Education Cost in Australia:
Cost of living in Australia is lower than any other Western country. Their tuition fess is also a lot less than America and UK. Average tuition fee in USA for international student is $30,000 per year and $36,070 to $51,850 per year in UK for undergraduate students. Whereas in Australia per year cost is:
· Bachelor's degree – AU$15,000 (PKR 1,177,000) to AU$33,000 (PKR 2,590,000)
· Master's degree – AU$20,000 (PKR 1,569,800) to AU$37,000 (PKR 2,904,000)
· Doctoral degree – AU$14,000 (PKR 1,098,900) to AU$37,000 (PKR 2,904,000)
· [Complete Details about Study Cost in Australia]
Education Cost in Germany:
This might be one of the biggest reasons that students like me really admire Germany and prefer it over other countries for higher education. Germany has taken up the good work and offers education totally free cost at all public universities for all native and international students. You only have to pay the registration fee at the start of the semester and you are good to go. Besides, students are also given the opportunities to win scholarships. Their compensation on fees does not affect the quality of education a bit and they still teach at the global level.
· HERE SEE: Complete Study and Living Cost in Germany
---
Student Work
Student Work in Australia:
In Australia, international student are allowed to work up to 40 hours every two weeks in jobs that require only basic skills or many roles on their university campuses. Jobs there are not very hard to find. The minimum wage in Australia is $16.88 per hour, highest in the world.
Student Work in Germany:
International students are allowed in Germany to work to meet their financial expenses. Students can to work up to 4 hours a day during sessions and full time during their holidays. However, before a student starts working, he or she has to take permission from the officials. Other than this, students are also offered discounts on many places like opera houses, cinemas, theatres, museums and some swimming pools etc. All you have to do is just show your student Identity card provided by university and you can avail your discounts.
· SEE ALSO: Rules For Working While Studying Abroad In Germany And Basic FAQs
---
Top 5 Australia vs. Germany University World Ranking
| | | | |
| --- | --- | --- | --- |
| Australia | World Rank | Germany | World Rank |
| | 22nd | | 60th |
| | 42nd | | =68th |
| | 46th | | 72nd |
| | 49th | | 98th |
| | 51st | | 121st |
· Read about Australia's All Top Universities and Colleges
· Read about Germany's All Top Universities and Colleges
---
Conclusion Germany vs. Australia to Study Abroad
Our job is to only show you the paths that are available for you. What path to choose is then definitely your choice after you have gained the necessary knowledge. Now to make things easier, I will summarize the conclusion of whole article.
As you must have guessed, despite being 4th best, Australia still has the more top ranked universities than Germany. Australia has more international students, more courses available and more popular. There is just one problem, Australia is a very expensive country to study abroad.
· SEE ALSO: What City You Should Go In Germany To Study Abroad
On the other hand, Germany's higher education system was ranked 3rd that is higher than the Australian by QS ranking. Germany also offers a lot of courses and a great environment. But, its official language is German and most courses you will find are taught in German language. They offer a lot of English-Taught programs but still these programs are very limited compared to Australian study programs. However, the biggest perk is that education in German public universities is entirely free. The living cost of Germany and Australia is almost the same.
· SEE ALSO: Best Cities Of Australia For International Students
If you can afford, go to Australia. If you have a limited budget, go to Germany. Both are great developed countries and have their own importance.
If you have any query or want to know more about them following are free helpful complete guides that will answer your each and every question and confusion. There is complete detail from Visa to University life in that country:
· Read Complete Study Guide for Germany
· Read Complete Study Guide for Australia
---
X
FREE STUDY ABROAD

Free study abroad expert advice