Most Funny and Weird Courses Offered in Foreign Universities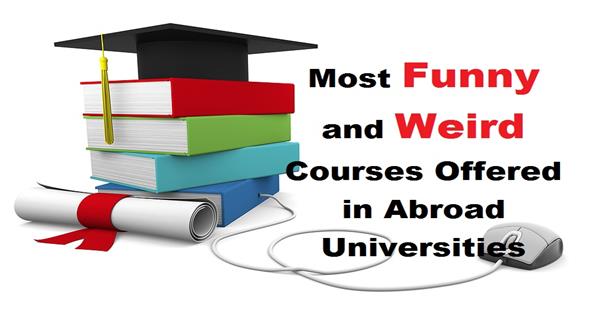 Selfie Class:
Everyone is aware of the top trending fashion of Selfies. People are so obsessed with it, they take average 200 -300 selfies each day. Well, University of Southern California decided to take this Obsession one step further. They actually offer their Undergraduates a course named "Selfie". Selfie class has credit hours and a proper syllabus. Following is the weekly syllabus I found for "Selfie Class."
1. Week One: Identity and Interpellation
2. Week Two: Celebrity and Branding
3. Week Three: Dataveillance, Biometrics and Facial Recognition
4. Week Four: Gender, Sexuality and Dating
5. Week Five: The Subaltern, Criminal and "Others"
6. Week Six: Place, Space and "Appropriate" Selfies
How to Survive Zombie Apocalypse:
You all are mindful of what a "Zombie" is. You have all seen the movies and drama seasons on Zombies and their terror. Though it is very very highly unlikely, actually more than unlikely, for this kind of catastrophe to occur. I mean who would believe a dead is walking and trying to eat me. Yet, it is really terrifying when think about it. Michigan State University, one of the top 100 universities of world, were probably way more scared than me that they actually decided to start a whole course on how to survive a Zombie Apocalypse.
They teach you all about this catastrophe, its causes, behavioral change and how you could survive more than others. Here is an official video by university authorities why this course is important, other than credit hours you will get.
Joy of Garbage:
After your whole life of education from school to college then university, what is the most important course you forgot to study? How to enjoy garbage! And what are the issues poor garbage has to face. Truly ironic, isn't it? Santa Clara University offers this course for you.
At first, I thought may be its something psychology related but according to my research it totally isn't the case. They will teach you from the bottom to expert level everything about garbage, its use and recycling. You need to have at least 70% marks just to pass this course. Can you imagine discussing with your friends and teacher about how great and lovely Garbage is! Say you threw garbage away this morning and watch yourself dropped from this course. Here is link just in case you want to read its full syllabus.

Art of Walking:
When you are a young university student, you really need to know how to walk. It's not like you have been walking on your feet your whole life. Now, to help you walk, Centre College of America will teach a whole course with credit hours named The Art of Walking.
You and your professor will walk around the campus and other natural places to learn the Art in it. According to professor of this course people don't walk much anymore, they mostly use automobiles for it. So, he teaches this course to promote walking and the pleasure people can get from it.
Science of Batman:
This sounds like a fun course. Teachers will teach you all about the batman, his history, life, routines and achievements as a Super Hero despite being a human. Everyone know how poor guy's parent died and with his unlimited wealth he became a hero instead of a villain. He now rivals all other super natural and alien Heroes.
Now University of Victoria uses him as an attraction to fetch students into this course and then as motivation to expand their physical and mental abilities beyond ordinary limits. For all Superman fans with all the "Superman is the strongest Super Hero" argument, BURRRNN!!! Just kidding, I am myself a Superman fan. Here is more detail about Sciences of Batman.
Oh, Look, a Chicken!
Despite its funny name, this course can be a little useful in real life. They teach you to focus your mind on one goal. We get frequently distracted from our goal by even the smallest things we find in our surroundings. They used this funny name metaphorically. Here is how its offeror Belmont University describes this course and its purpose in a very funny and transparent way.
"Oh, look, a Chicken"....This course will pursue ways of knowing through embracing [little ants, carrying a morsel of food across the table] what it means to be a distracted [I could sure enjoy a peanut butter sandwich right now] learner as well as [OMG--I get to go to the beach this summer] developing an awareness [I need to trim my fingernails] of one's senses. The instructor teaches in the school of music, [do I hear water dripping?] so there will be an element related to that woven [spiders are amazing] into the course. [oh, it's the fish tank behind me] Those registering for this section may even learn to juggle [I'll be right down, I just have to finish this...what was I working on?].
How to Watch TV:
I don't know. What, What? Why, really? Why bother but it is my job to write. Well, may be Montclair University were just watching a bad definition movie on TV while deciding courses to teach. But they really do teach this course to their Undergraduates for credit hours. They teach students the importance, value and impact of Television on our lives and what is proper way to watch it. At least it's elective.
Biology of Jurassic Park:
You know when you are watching a fictional movie and say that it's not scientifically possible. Well, right there, one university took your question way too seriously. Here is another course for Biologist after a popular movie about dinosaurs, "Jurassic Park". This course is offered by another University of America, "Hood College". In this course you will be discussing all about dinosaurs discussed in Jurassic Park movie. How those Dinosaurs came to life, how they can come to life, their history and all about their Biology. I would say if you really want to waste your time, you can just go to sleep, why bother.
Sociology of Miley Cyrus:
Miley Cyrus is a very famous American pop star since her childhood. She has been in public's eye for many weird scandals and critics because of her unique personality. One can be fan of a celebrity but to start a whole undergraduate level course after them, is probably a little out of the line.
This marvelous job was practically executed by Skidmore College in Saratoga Springs. It must be really fun gossiping about a celebrity scandal in a university class room and getting credit for it. Man, I need some fans like Skidmore College.
Myth and Science Fiction:
This particular course I myself think can be pretty fun. Center College from America teaches this course where they discuss about all the Myths and Scientific Fictions from very famous movies Star Wars, The Matrix and The Lord of Rings.
This class would be a heaven for nerds like me. Of course every undergraduate must watch and understand these movies for the sake of a bright career. Can you imagine, you will be talking about a character with your teacher and explaining each other's theories about these movies. Take this class and say out loud, "I hate Stars Wars". I dare you! I double dare you!
Following is a list of more weird and Funniest courses offered by a university.
1. Science of Harry Potter 2. What If Harry Potter Is Real?
3. Lady Gaga and the Sociology of Fame 4. Philosophy And Star Trek
5. The Science Of Superheroes 6. Learning From YouTube
7. Arguing with Judge Judy 8. Zombies In Popular Media
9. Interrogating Gender: Centuries of Dramatic Cross-Dressing
10. Cyberporn And Society 11. Getting Dressed
12. Wasting Time on the Internet 13. Politicizing Beyoncé
14. The Physics of Star Trek 15. Jay Z and Kanye West
16. The Science of Superheroes 17. Popular Flops: Bad Movies
18. Theory and History of Video Games 19. The American Vacation
20. The Vampire in Literature and Cinema 21. European Witchcraft
22. Age of Piracy 23. Cyber feminism
24. The Lucifer Effect: Understanding How Good People Turn Evil
25. Alien Sex 26. Street-Fighting Mathematics
27. Star Trek and Religion 28. Queer Musicology
29. The Beatles 30. Dirty Pictures
31. Circus Stunts 32. Tree Climbing
33. American Pro Wrestling 34. Kitchen Chemistry
35. Campus Culture and Drinking 36. History of Toys
37. History of Pigs in America 38. Surf Science and Technology
39. Yaught Operations 40. Dairy Herd Management
41. Floral Management 42. Nannying
43. Taboos
FREE STUDY ABROAD

Free study abroad expert advice