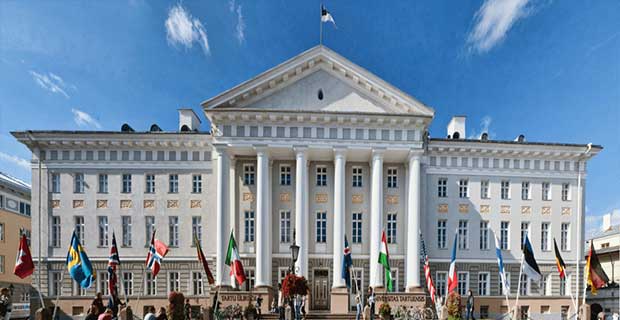 Estonia is an authentic paradigm of modern day society that is digitally advanced and economically flourished. It has very less population and very small area but Estonia has managed to stand tall in all fields of life. Estonia is newly found treasure for foreign students, it fits perfect to the demands of study abroad aspirants offering them high standards of living in considerably low cost, exceptional quality of education with modern-day teaching structure and globally accepted certificates and degrees, post graduation settlement opportunities, being a Schengen state it opens window to other European countries, offering chance for business startups and one of the safest and clean European country, it definitely is a hidden gem in Baltic countries. Those currently wondering about the admission requirements and procedure of studying abroad in Estonia can gain information from the following section.
Choosing a University in Estonia

Choosing a Study Programme

Academic Requirements

Language Requirements

Method of Application

Required Documents

Admission Deadlines

Acceptance of Admission
Choosing a University in Estonia
Estonia's universities have developed a curriculum structure and teaching method that is focused on building cognitive skills of students and elevating their individual capabilities. The study pattern involves class room interactions, lectures, discussion, seminars, research projects, problem solving activities, presentations, group studies and organizing of different academic events related to courses. After Singapore and Japan, Estonia has utilized maximum benefit of technology, so you shall be learning from tech friendly and highly qualified faculty. The degrees offered by Estonia's universities have prestigious regard and acclaim in Europe and beyond. Almost all of the universities in Estonia offer English taught courses but if you manage to learn Estonian language you will get remarkable fee concession. To select the most appropriate university in Estonia ensure availability of following characteristics:
If the university offers internship programme as part of their study programme curriculum

Post graduation job search assistance

Affordable tuition fee structure and fee concessions

Locality of university

On campus residence

Scholarships based on academic excellence

Its global ranking
Before finalizing a university to study abroad in Estonia, it is better to do extensive searching and match different factors and then select the best option.
Choosing a Study Programme
There are almost 250 study programmes that are offered in English language in Estonia. Definitely out of so many options in all educational streams and academic levels you can find a study programme you inspire to study in English language in Estonia. Selection of study programme is peculiar and specific for each student's professional and career aspirations. While making a study programme choice for higher education is choosing your career which should be done with self contemplation, you must be sure of your own capabilities, your academic commitment and your previous set of skills. You must be interested and passionate about the subjects you are committing to study, explore the potential of career success of your chosen study programme and evaluate the difficulty level. Check entry requirements of different study programmes which will be specific for each and finalize the one whose eligibility criteria you meet.
Academic Requirements in Estonia 2021 for Pakistani Students
The entry requirements are generally study programme specific and differently set by every institution. Some universities in Estonia take entry tests and some assess academic capabilities through written essays and portfolios. For language requirements some universities require international students to sit in university's language examination and some prefer IELTS and TOEFL scores. It is best to ascertain the exact entry requirements of your chosen university in Estonia, the general requirements of admission in most of the Estonian Universities are as follows:
For Admissions in Under Graduate Study Programmes:
Higher Secondary School Diploma or Equivalent Degree in good grades attained from a recognized institution of your home country. Skype Interview and entry test. Minimum grades and subject wise merit depends on study programme you chose, for example for BBA the student must have attained 70% marks in mathematics. Motivation letter written in English language with mastery and detail will put a good image and level up your admission chances.
For Admission in Post Graduate (Masters) Study Programmes:
Bachelor's level degree or equivalent with at least 180 ECTS with good grades from a recognized institution of your country. Entry test is not a requirement for post graduate level. Skype interview and motivation letter will be required to assess academic capabilities of students.
For Admission in Post Graduate (PhD) Study Programmes:
Bachelors Degree, Masters Degree from a recognized institute of your country passed in good grades. Skype interview, Research Proposal, CV, Research Proposal are additional entry requirements.
Language Requirements
The students belonging from non-English speaking countries need to prove their proficiency language through standards English language Tests such as IELTS, TOEFL and Cambridge. If not IETS and TOEFL, many universities in Estonia offer students to sit in university's English language test to assess student's command over English language. Minimum scores required in IELTS and TOEFL test for admission in Estonian Universities are as: (Get Details about Upcoming IELTS, TOEFL Test Dates from Here).
IELTS minimum bands required: 5.5

TOEFL iBT minimum scores required: 75

TOEFL paper based test minimum score required: 530

Cambridge English: B2 First minimum scores required: Grade C or 160 Scores (B2 LEVEL).

Pearson Test of English Academic (PTE Academic) minimum grades required: 59
The English Language Test taken by universities for admission will be taken through online means by university before granting admission. The students have to inform their chosen university if they want to take university's English assessment test.
Method of Application
The method of application in universities of Estonia is directly through university's website. After submitting application online the students would be required to send verified photocopies of their academic transcripts and degrees to their chosen university via postal mail. The students must note that they don't have to send original documents, just photocopies. The documents must be translated in either English language or Estonian Language. The documents must be verified by granting authorities.
Required Documents to get Admission in Estonia for Pakistani Students
The required documents for admission in universities of Estonia for international students are coincided with visa documents I-e identity documents such as passport or identity card of applicant. The documents required for admission application in Estonian universities are as follows:
Photocopies of previous academic transcripts (certificates, degrees, diplomas etc). The documents must be translated either in English, Russian or Estonian language and must be notarized by granting authorities.

Photocopy of passport or identity card of applicant (The front page of passport containing name, address and identity details of applicant is required)

Recently taken photographs

Entry test result (the candidate must have attained C Grade at least) It is mostly a compulsion for under graduate programmes.

Language proficiency test certificate

Updated CV (for post graduate PhD admissions) with details or designation, job type, company details

Portfolio (If required)

Research proposal (for post graduate research programmes)

Letter of motivation (for both under graduate and post graduate admissions)It must be confining of 4500 letters at least and the applicant must explain his/her professional goals and reason behind taking admission in certain study programme. The acceptance of admission depends on letter of motivation because it is required in place of entry test by most of universities in Estonia. So make sure it is well written.

Recommendation letters (for post graduate admissions) from two of applicant's professors

Admission application fee (50 Euros) not refundable
Admission Deadlines in Estonia Universities for Pakistani Students 2021
The admission deadlines in universities of Estonia might differ from university to university and according to the academic level you are applying for admission. To be ascertain about the exact admission application submission date of your chosen university in Estonia get details from its website. In general the admissions application intakes of most of the universities of Estonia are as:
Winter Session: Till 15, October
Spring Session: Till 1st, February
Summer Session: Till 1st March
The students prepare the required documents and clear language tests before admission deadlines to avoid delay and if they unfortunately miss the chance to apply in one session, they can apply for admission in another upcoming session.
Acceptance of Admission
The students who meet the admission requirements will receive acceptance letter from Estonian university. After receiving admission acceptance from university the students can proceed with student visa requirements and pay their tuition fee and registration fee. All international students belonging from non European states are required to attain temporary resident permit of Estonia (TRP) for purpose of studying. Along with acceptance letter, the university granting you admission in Estonia will send other documents such as invitation letter. The students will visit nearest Estonian Embassy or Consulate in their home country and acquire visa details and further procedure.
X
FREE STUDY ABROAD

Free study abroad expert advice