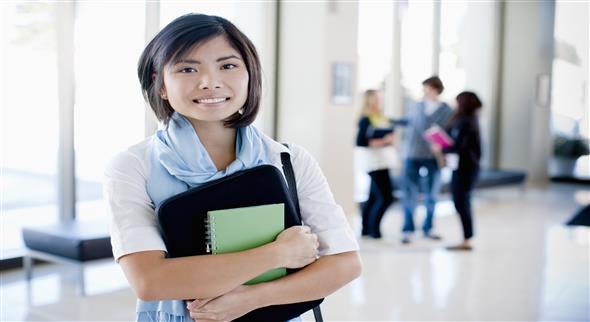 What is IELTS?
IELTS, International English Language Testing System, is an international standardized test of English language proficiency. It is jointly managed by University of Cambridge ESOL Examinations, the British Council and IDP Education Pty Ltd, and was established in 1989.
It is world's most widely taken English Test. It is a test that determines your level of English language skills and gives you certificate for that. This test comprises every aspect of English Language. This includes:
Reading

Writing

Listening

Speaking
According to official website of IELTS, there are two types of IELTS test. Be sure, which one you are preparing for.
IELTS Academic:
For higher education or professional registration in an English speaking environment. It reveals whether you are ready to begin studying or training.
IELTS General Training:
For those who are going to English speaking countries for secondary education, work experience or training programs. The test focuses on basic survival skills in broad social and workplace contexts.
· [Know IELTS Test Dates in Pakistan]
Why You Should Take IELTS?
English is an international language. No matter where you go in this world, English is a compulsory thing for you. With English you can survive in any country even if it's a Non-English country. Before you take this test, you have to prepare for it. This improves your English language skills.
If you want to go abroad for study or job, this English language test is compulsory. All English Universities require international students to take an English language test. Most of them ask for IELTS.
When you take IELTS test then you know your level that where you stand in English. Once you have prepared and taken this test, then you can be sure that it will not be difficult for you socialize in any foreign country and you will easily be able to understand all English lectures in your university.
· [How to Register Yourself for IELTS]
What Score You Need?
IELTS score is graded in Bands. There are total 9 Bands score in IELTS. Each Band describes your level of English. Different universities may require different score in your IELTS test. For example, Oxford University requires you to score 7 bands out of 9, in order to be able to take admission there. But it is world's top university, so, worry not.
Usually almost all universities, including renowned institutions, require a band score of at least 5.0 to 6.0. Following is a description of what these Bands actually mean.
· [Learn How to get High Scores in IELTS]
Band 9: Expert user: Has fully operational command of the language: appropriate, accurate and fluent with complete understanding.

Band 8: Very good user: Has fully operational command of the language with only occasional unsystematic inaccuracies and inappropriacies. Misunderstandings may occur in unfamiliar situations. It handles complex detail & arguments as well.

Band 7: Good user: Has operational command of the language, though with occasional inaccuracies, inappropriacies and misunderstandings in some situations. Generally handles complex language well and understands detailed reasoning.

Band 6: Competent user: Has generally effective command of the language despite some inaccuracies, inappropriacies and misunderstandings. Can use and understand fairly complex language, particularly in familiar situations.

Band 5: Modest user: Has partial command of the language, coping with overall meaning in most situations, though is likely to make many mistakes. Should be able to handle basic communication in own field.

Band 4: Limited user: Basic competence is limited to familiar situations. Have frequent problems in understanding and expression. It is not able to use complex language.
Band 3: Extremely limited user: Conveys and understands only general meaning in very familiar situations. Frequent breakdowns in communication occur.

Band 2: Intermittent user: No real communication is possible except for the most basic information using isolated words or short formulae in familiar situations and to meet immediate needs. Has great difficulty understanding spoken and written English.
Band 1: Non-user: Essentially has no ability to use the language beyond possibly a few isolated words.
Band 0: Did not attempt the test: No assessable information provided.
How to Prepare?
Preparation for IELTS will be different than any other test you might have ever prepared. A practical approach is used for preparation rather than old theoretical.
Your first choice should be to participate in a short course for IELTS. There is a number of institutions that provide this service. These institutes have highly qualified, experienced Mentors that will know your exact level and what and how to teach you, according to IELTS requirement.
· [Here are IELTS Coaching Institutes in Pakistan]
Here is Test Format for IELTS. Best way to keep yourself updated for IELTS is to surround yourself with English.
1. Watch English movies or drama seasons without subtitles. This will enhance your listening skills. Listen closely how they speak. But, do not copy that African American's (Black's) accent. That will only destroy your linguistic skills. That is a very informal way of speaking.
2. Read as much English as you can. English Newspaper would best to improve your reading skills. You can go online and read Articles, latest news. Well, you can also read my other Articles on this website. That will not only raise your reading skills but you can also learn, how to writing skills and all of my Articles are very informative, especially for the students who want to go abroad like yourself.
3. Try to be in company of people who usually converse in English. Talk with them in only English. They will raise your level up. Lucky for my friends, they have got me.
4. Learn all rules for writing and practice essay writing. Write on as many topics as you can. Remember, you cannot use rote method here. Only do self-writing on any particular topic of your choice.
Now in this generation of Technology, everything is converted into Applications and made easy for you. There are many applications available for the preparation of IELTS. For the listening and reading sections, you can use apps such as IELTS Skills or TOEFL TPO HD. There are also many other English Language Improvement apps available online. Read this article about Tools to improve English.
· [What is IELTS fees in Pakistan]
Speaking section involve four to five minutes of discussion about your hobbies, hometown, school, etc. Websites such as dcielts.com provide lists of typical questions and other useful tips to help you prepare.
But you also need to learn the Test Format for IELTS, because many students perform poorly due to unfamiliarity or failure to follow instructions. The more Band score you want, the more you should practice. Practice makes a man perfect, especially for IELTS.
X
FREE STUDY ABROAD

Free study abroad expert advice