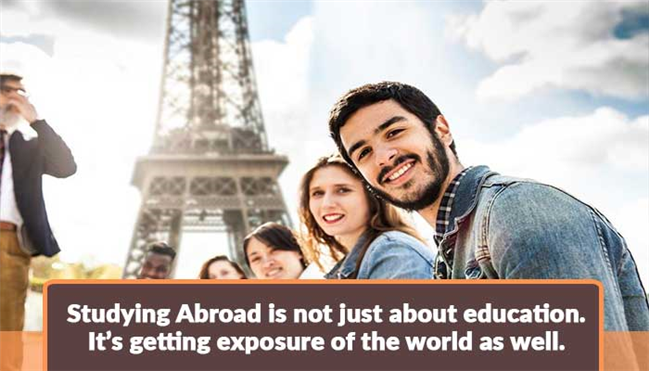 Education is not just about an educational programme or course of study, it is having an equitable outlook about people, etiquettes, empathy, humanity, patience and an understanding of morality. Such sublime characteristics are not inborn, they are learned through experiences and usually when one has been put against the odds and challenges. Learning begins when we step out of our comfort zone and embrace life as it is. The students travelling and living in abroad are exposed to a greater surface to view an original spirit of life which molds them into an unprecedented version of themselves. The experience of studying abroad is not a lap of luxury, it demands change. This change will eventually lead students to become into a learned being both academically and socially. The exposure to multitude of opportunities including academic, social, professional and development are accessible to students studying abroad.
To be more concise, following are the numbers of opportunities that can be achieved while studying abroad.
Wide Ranging Career Opportunities:
The most evident and substantial factor which becomes basis of decision to study abroad is wide range of career opportunity. Highly advance teaching techniques and updated educational system being availed by students in foreign countries, makes them highly qualified professionals and employers prefer to give them jobs. Upon returning back to native country, the students having a foreign degree tend to get highly paid jobs as well.
Experiencing Life Like Have Never Before:
While living abroad, students experience a new way of life, diverse cultures and a broad prospective existence. The methods and mechanisms adopted by people there to tackle obstacles of life give novel teaching. The patterns which matches and which differentiate cultures becomes more vivid. The experience earned there can enhance student's way of living in a better way and make their life prosper in so many manners. The people who have studied abroad get consultancy and guidance of career and life from this experience of studying abroad.
Confidence Building:
Studying in abroad involves tackling arduous affairs on your own. Facing people, managing work and studies instills students with confidence to handle life without depending on anyone. Self sufficient beings spend a successful and progressive life. The art of self sufficiency is being taught to students all their life while school life, college years or in University, but it can never be learnt as rapidly and perfectly as while living away from known people of your country.
Punctuality and Persistence:
The most important two attributes which can guarantee success of a person are persistence and punctuality. Studying in abroad these two traits will organically penetrate in students. The demand of work will make punctual and the persistence to survive and complete your studies despite odds will shape students into productive individuals.
Learning from Fellow Students:
While studying abroad, students will get to meet fellows belonging from different parts of the world attending their courses on scholarships or exchange programmes. To know what their culture is all about, find similarities and differences and also tolerate them; grasping knowledge of their country is definitely a unique experience which can only be attained while studying abroad. It builds an effective way of communication and confidence in students.
X
FREE STUDY ABROAD

Free study abroad expert advice