Best Advantages of Studying Abroad in Australia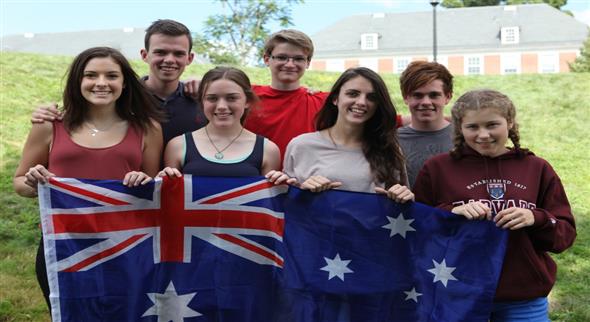 1 - World Class Education
After USA and United Kingdom, Australia ranked third by means of providing the best education in the world. Australia is home to many of world's top universities and their education and degrees are recognized worldwide. It is not just about the degree but they provide students with best facilities available where they not only learn but groom their entire personalities and perspectives.
---
2 - Wide Range of Courses Offered
You can literally study anything in Australia. Australian universities provide a very wide range of courses for students with a flexible delivery system. There are more than 1100 well known institutes in Australia that offer more than 22000 courses. There are many rare courses that are not offered by any universities in almost all countries, due to lack of resources in that certain field. For example, Cyber Security in Masters is not offered in Pakistan not even in China, Malaysia and Hong Kong. However, many universities in Australia teach this course. Did you know, there is course named "Sciences of Batman" taught in University of Victoria of Australia.
---
3 - You will Never Feel Alone
First time going abroad for studies students feel very nervous thinking how they are going to fit there in a new world. This is a fun thing about Australia, you will never feel alone there. Australia is a totally culturally diverse country. You will people of all color, race, language and country there.
1 out every 4 in Australia is born overseas. Most of the Australia consist of multicultural population. So, you will never feel like a foreigner there. People are very friendly and funny.
---
4 - Less Tuition Fee
Cost of living in Australia is lower than any other Western country. Their tuition fess is also a lot less than America and UK. Average tuition fee in USA for international student is $30,000 per year and $36,070 to $51,850 per year in UK for undergraduate students. Whereas in Australia per year cost is:
· Bachelor's degree – AU$15,000 (PKR 1,177,000) to AU$33,000 (PKR 2,590,000)
· Master's degree – AU$20,000 (PKR 1,569,800) to AU$37,000 (PKR 2,904,000)
· Doctoral degree – AU$14,000 (PKR 1,098,900) to AU$37,000 (PKR 2,904,000)
---
5 - Work Allowed on Student Visa
When choosing a foreign destination for studies, work authorization is always a main factor every students keeps in view. Australia has made even that easy for you. Part time work with studying is a great way to manage you foreign education expenses. In Australia, international student are allowed to work up to 40 hours every two weeks in jobs that require only basic skills or many roles on their university campuses. Jobs there are not very hard to find. The minimum wage in Australia is $16.88 per hour, highest in the world.
---
6 - Many Scholarships Available
Top priority of every student in choosing a country and university is if you can get scholarship. Australian government is very generous since they have a budget of about $200 million per year especially for international students. There are numerous schemes of scholarships for international students, however, before you apply for scholarship you must be already admitted to an Australian university. These funds are open to all students but there are certain requirements for application i.e. grade requirements, financial need, etc. But once you are admitted to a university you should inquire with the university's financial aid department, they will guide you properly for all possible options available.
---
7 - Best Place for Tourism
Since you are there for study, it does not kill you to visit around a little bit. Australia is the of the best tourist attraction. Australia is very beautiful country with a great number of attractions to visit. There are many, clean white and beaches and lakes. Many lakes there are literally pink. You can find from deep green forests to huge dry deserts there. There are a lot more Kangaroos than humans. Australia's climate varies greatly throughout the eight states and territories. There are about 10, 685 beaches in Australia from most abundant to filled with human.
---
8 - Permanent Residency Opportunity
In Australia, after completing your studies on student visa, you have a chance to apply for permanent residency.
An Australian permanent resident is a non-citizen who holds a permanent visa. Permanent residents can live, work and study in Australia without restriction, and are given most of the rights and entitlements of Australian citizens. After your education you apply for GSM (General Skilled Migration). GSM approval is dependent on your score in the Points Test, which grants points according to your skills, performance and experience. There are also opportunities such as the Professional Year Program (PYP), which allows graduates to gain experience in an Australian workplace. Completing a PYP can help you to get permanent residency.
Go to our
News and Events
for more Latest Informative and Interesting Articles
Want to Study Abroad? Still Confused? Here is Complete Information on every country and
their
Study Abroad Guide
FREE STUDY ABROAD

Free study abroad expert advice